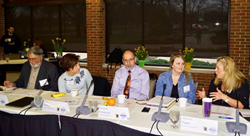 "The experience was first class—the transportation, hotel, meals, speakers, organization and professionalism of all of those associated at the FPRI and the First Division Museum." -Richard VandenBosch, participating educator
Philadelphia, PA (PRWEB) March 31, 2017
On March 25-26, 2017, the Foreign Policy Research Institute (FPRI) and the First Division Museum at Cantigny hosted 40 teachers at a unique professional development opportunity connecting high school and secondary school educators with top scholars in the fields of history, geography and political science.
The weekend conference, "Why Does America Go to War?" brought together teachers from 23 states to discuss concepts ranging from thinking about war to the Spanish-American War. Eight experts gave individual presentations to the educators, who were provided with reading material before the conference.
"We find that teachers are eager to achieve greater mastery over the subjects that they teach, and we are happy to be in a position to offer them a unique opportunity to engage with leading scholars in world history, American history and international relations," said Alan Luxenberg, President of FPRI.
Part of a 20 year old series of History Institutes put on by FPRI, these conferences enable educators to apply complex subjects to a high school-level curriculum. Accepted teachers are provided with transportation reimbursement, lodging, meals and the opportunity to earn credit from Carthage College of Kenosha, WI, a co-sponsor of the conference.
"The experience was first class—the transportation, hotel, meals, speakers, organization and professionalism of all of those associated at the FPRI and the First Division Museum. I want to thank you for making this available not only to me, but everyone else," said Richard VandenBosch, an Instructor at Modesto Junior College in Modesto, CA.
Established in 1990, the Marvin Wachman Center for Civic and International Literacy of FPRI seeks to foster civic and international literacy in the community and in the classroom. The Madeleine and W.W. Keen Butcher History Institute is the centerpiece of the Wachman Center, sponsoring programs designed to bring high school teachers from around the country together with the nation's top scholars in history, political science and more. Over the past 20 years, History Institutes have garnered a national reputation for excellence and have worked with over 1,000 teachers from over 800 different schools in 47 states.
This conference is part of a series of History Institutes focused on Military History, and part of the FPRI Center for the Study of America and the West. "Why Does America Go to War?" was made possible by the generous support of the Lynde and Harry Bradley Foundation.
FPRI is a non-profit, non-partisan think tank located in Center City Philadelphia. Its mission is to bring the insights of scholarship to bear on the foreign policy and national security challenges facing the United States. It seeks to educate the public, teach teachers, train students, and offer ideas to advance U.S. national interest based on a nonpartisan, geopolitical perspective that illuminates contemporary international affairs through the lens of history, geography and culture.
For more information about FPRI or for a list of participating schools please visit http://www.fpri.org or call Payton Windell at 215-732-3774 ext. 122.