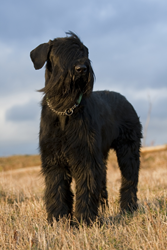 Giant Schnauzers are really the perfect solution
Atlanta, Georgia (PRWEB) April 19, 2017
Full Contact K9, a nationally-renowned protection dog provider, has recently begun importing breeds specifically for allergy-prone clientele. Giant Schnauzers from the Czech Republic haven proven both hypoallergenic and ideal for training.
"We've seen a rise in clients looking for more allergy-friendly breeds over the last few years," says Full Contact K9 CEO, Evan Dunbar. "Giant Schnauzers are really the perfect solution. They actually have hair instead of fur and with proper care, shedding never becomes an issue." The firm imports male and female dogs from well-known European breeders, both puppies and fully-trained adults.
Giant Schnauzers were originally bred to be working dogs. They are known for their intelligence and determination and need a considerable amount of exercise daily. "Schnauzers actually make great family dogs," says Dunbar. "They're highly loyal and trainable, and their large size is always a kid-pleaser." Fully grown, Giant Schnauzers can weigh between 60-80 pounds and are solid black.
Like humans, Giant Schnauzers have hair that will grow until clipped or "stripped" by a professional groomer. In order to prevent shedding, the breed must be professionally stripped several times a year. "These dogs take a little more maintenance than some other breeds in terms of stripping and brushing," explains Dunbar, "but for many people, owning a dog that's both trained to protect them and hypoallergenic is well worth the effort."
In addition to selling pure-bred Giant Schnauzers, Full Contact K9 also works with dog owners to fully train "family safe" protection dogs. Offering a wide array of obedience training, puppy development programs, and other training services, the company has become one of the most well-known in the industry.
"We take a lot of pride in being an industry leader," explains Dunbar. "By putting together a world-class team of dog experts we're able to offer our clients the most comprehensive canine services in the business."
Full Contact K9 is based in Atlanta, GA, and also operating out of Silicon Valley, CA. Specializing in puppies for sale, fully-trained protection dogs, and ongoing dog training, Full Contact K9 has become the go-to dog services provider for the country's elite.
To find out more about Full Contact K9's selection of Giant Schnauzers for sale, visit http://www.fullcontactk9.com or call 678.235.K9K9.