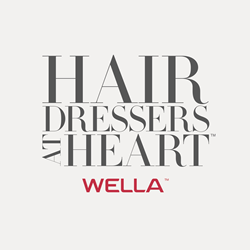 Woodland Hills, Calif. (PRWEB) March 31, 2017
Wella's Hairdressers at Heart has awarded its 2017 Master Color Expert (MCE) Scholarships to Wella Colorist, Anca Moldoveanu of CK Salon in Chicago, Ill., and Wella School Instructor, Tamara Spivey-Lane of Ogle School-Denton and Spivey Lane Salon in Fort Worth, Texas. These scholarship recipients were chosen from a group of six finalists and notified of their winnings in person earlier this week.
The Wella Master Color Expert Program is recognized as one of the industry's highest achievements in advanced color education. Each scholarship covers program expenses, valued at $3,750, in addition to $2,000 for travel and stay.
Wella Colorist, Anca Moldoveanu, expressed much excitement for the award when she was named a winner onstage at the Wella Regional TrendVision Chicago event. She said the Master Color Expert certification will provide her with the technical expertise to elevate her career, as well as an opportunity to expand and enhance her creativity.
"I want to learn more because I want to give more," she said. "I think in this kind of career education is for life."
Tamara Spivey-Lane, an instructor at Ogle School in Denton, Texas, joined the industry just four years ago and has since opened her own salon and earned her Cosmetology Instructor Certification. For Spivey-Lane, the Master Color Expert program is an opportunity to expand her skills as a colorist and extend this knowledge to her students at Ogle.
"I have both students and staff members who want to know the why behind the technical pieces," she said. "I want to pass on what I learn to enhance their confidence as colorists."
This is the first year Hairdressers At Heart has offered a Master Color Expert scholarship to a colorist and an instructor. The expansion of the MCE Scholarship program reflects Hairdressers at Heart's continual commitment to education and mentorship throughout the careers of both educators and hairdressers behind-the-chair.
"At Hairdressers At Heart we are continually impressed by our educators and the critical role they play in the lives' of their students," said Sal Mauceri, Senior Vice President North America Professional Beauty and Global Nail at Coty Beauty. "The entries for this year's Master Color Expert Scholarships showcased the kind of passion and curiosity we find unique to our industry, and we're honored to present this life-changing opportunity through our advanced program to Tamara and Anca."
The Wella Master Color Expert course is a signature, 10-day seminar offered at Wella Studios. With classes spanning from color theory to technical and creative skills, it is focused on giving students an expert-level understanding of color. MCE graduates have been found to grow their personal revenue up to 30 percent more than non-graduates.
To enroll in the next Wella Master Color Expert course and other Wella Professional education opportunities, please visit http://www.WellaEducation.Tumblr.com/Calendar.
For more information about Wella's Hairdressers at Heart scholarship opportunities, please visit http://www.HairdressersAtHeart.com, and join the conversation on our social channels including Facebook, Instagram and Twitter.
About Hairdressers At Heart: Stylists are committed to being the best, perfecting their craft with every cut. Wella is here to advance the salon industry, one stylist at a time. Hairdressers At Heart is a program created to help stylists develop their talents throughout their career. Our goal is to be a vital partner to salons, empowering individual stylists and our entire industry. For more: http://www.hairdressersatheart.com
About Coty Inc.: Coty is one of the world's largest beauty companies with approximately $9 billion in revenue, with a purpose to celebrate and liberate the diversity of consumers' beauty. Its strong entrepreneurial heritage has created an iconic portfolio of leading beauty brands. Coty is the global leader in fragrance, a strong number two in professional salon hair color & styling, and number three in color cosmetics. Coty operates three divisions – Coty Consumer Beauty, which is focused on color cosmetics, retail hair coloring and styling products, body care and mass fragrances sold primarily in the mass retail channels with brands such as COVERGIRL, Max Factor and Rimmel; Coty Luxury, which is focused on prestige fragrances and skincare with brands such as Calvin Klein, Marc Jacobs, Hugo Boss, Gucci and philosophy; and Coty Professional Beauty, which is focused on servicing salon owners and professionals in both hair and nail, with brands such as Wella Professionals, Sebastian Professional, OPI and ghd. Coty has approximately 20,000 colleagues globally and its products are sold in over 130 countries. Coty and its brands are committed to a range of social causes as well as seeking to minimize its impact on the environment.
For additional information about Coty Inc., please visit http://www.coty.com.
###