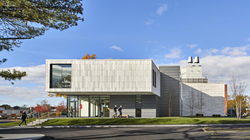 "We are extremely pleased that the NRB team and our partners have earned these awards." Bob McNeil, President, NRB Inc.
New Holland, PA and Grimsby, Ontario (PRWEB) March 30, 2017
The Modular Building Institute presented the awards at the 34th annual World of Modular convention held in Tucson, Arizona on March 20th, 2017. The MBI Awards of Distinction competition showcases the industry's most advanced and innovative commercial building projects.
Harvard Pagliuca Life Lab. NRB Inc. and our partner, Triumph Modular Incorporated were awarded Best of Show and First Place in the permanent modular educational category for Pagliuca Life Lab at Harvard University. Together with design firm Shepley Bullfinch, the Harvard Project Team and Shawmut Design & Construction this 15,000 square foot state-of-the-art wet lab building project was a collaborative effort from beginning to end. The lab building was built with its 34 modules together in a controlled environment at the NRB plant to about 85% completion, then it was disassembled and shipped to the Harvard site that had been prepared simultaneously. https://www.nrb-inc.com/permanent-modular-construction/projects/harvard-university-pagliuca-life-lab/
"It was a pleasure working so closely with the entire team to bring this facility from design to the plant floor, and on to the Harvard site to have it completed in just 7 months. The Harvard Pagliuca Life Lab has all of the high-level design, engineering, program and systems complexity demanded in a wet lab application, and when combined with the distinctive features and finishes that were mostly pre-installed at the NRB plant prior to shipping to Harvard - demonstrate what's possible in off-site modular construction today" said Scott Heckel, Director of Operations, NRB.
Harvard's Pagiluca Life Lab, the newest member of the Harvard Innovation Labs ecosystem, incorporates highly sophisticated systems and equipment for advanced life sciences research. The first floor is designed for flexibility and connectivity in an open concept with a central ornamental staircase and floor to ceiling glass, a lounge, work tables, shared conference rooms and a kitchen – all to encourage cross-team collaboration. The second floor cantilevers out over the first floor by 14' and houses the complex lab spaces including 36 wet lab benches, tissue culture rooms, fume hoods, a chemical waste system and a walk-in environmental cold room.
We are honored to be recognized by the industry's leading professionals for our contribution to Harvard University's Pagliuca Life Lab," said Cliff Cort, President of Triumph Modular
"NRB is very proud to be a part of this new Harvard Pagliuca Life Lab, that will provide teams of students, faculty, alumni and industry the vital resources needed for their important life-sciences research ventures" said Laurie Robert, VP Sales and Marketing
NRB was the winner of the coveted "Judges Choice" "Best in Show" as well as First Place in the retail category / relocatable modular building designs for Adi Development Group – Stationwest Condominium Sales Pavilion. The stunning 1,696 sq. ft. sales center was built in 3 modules with steel framing and concrete floors, and is designed to match the quality and architectural vision of the new condominium development. The unique exterior design included floor to ceiling glazing on two full walls and angled flat aluminium panels – the combination produced a modern, eye catching Sales Pavilion. The building is designed for future relocations as Adi develops new residential communities.
https://www.nrb-inc.com/projects/adi-development-group/
"As a real estate developer committed to building high-quality homes, it is imperative to our business that our Presentation Centres are impeccable and showcase excellence, and the NRB team worked closely with us to ensure that the end product was in line with our standards. Our Stationwest Sales Presentation Centre in particular is a real showpiece that we are extremely proud of, and NRB was excellent to work with to make it a reality" said Samantha Sutton Sales and Marketing Manager Adi Development Group
This project also landed NRB an award in Multimedia with their innovative architectural visualization video on the Adi Development – Condominium Sales Pavilion that was developed in house by their own talented Design Team using Revit and Lumion. https://www.nrb-inc.com/projects/adi-development-group/
"We are extremely pleased that the NRB team and our partners have earned these awards. We strive to build not only custom buildings that meet our client's expectations across all markets, but to build the business relationships that are the foundation of success". Said Bob McNeil, President, NRB.
"This year's Awards of Distinction contest was very competitive, with more than one hundred entries overall" said Tom Hardiman, Executive Director of the Modular Building Institute. "Our panel of independent judges had some tough choices to make, so I congratulate all of our winners on their awards."
About NRB
NRB is a leader since 1979 in off-site construction that designs and manufactures modular buildings for commercial, institutional, industrial and multi-family residential clients in Canada and the U.S. We're in the business of off-site construction, but we're also in the business of changing minds. For more information, visit http://www.nrb-inc.com.
About Triumph Modular
Triumph Modular provides construction services from preconstruction strategies, design and coordination, procurement of modules to delivery and installation. For more information about Triumph Modular visit http://www.triumphmodular.com
About Modular Building Institute
The Modular Building Institute is the voice of commercial modular construction and the international trade association for the industry. For more information about MBI visit http://www.modular.org