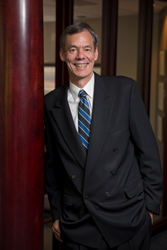 Bellevue, Washington (PRWEB) April 01, 2017
Financial Times has named Paul R. Ried, MBA, CFP® and President of Bellevue, Washington based Paul R. Ried Financial Group, as one of America's Top 400 Financial Advisers. The list recognizes top financial advisers at national, independent, regional and bank broker-dealers from across the U.S.
This is the fifth annual FT 400 list, produced independently by the Financial Times in collaboration with Ignites Research, a subsidiary of the FT that provides business intelligence on asset management.
Financial advisers from across the broker-dealer channel applied for consideration, having met a set of minimum requirements. The applicants were then graded on six criteria: assets under management (AUM); AUM growth rate; experience; advanced industry credentials; online accessibility; and compliance records. There are no fees or other considerations required of advisers who apply for the FT 400.
The final FT 400 represents an impressive cohort of elite advisers, as the "average" adviser in this year's FT 400 has 27 years' experience and manages $1.7 billion in assets. The FT 400 advisers hail from 38 states and Washington, D.C.
The FT 400 is one in a series of rankings of top advisers by the Financial Times, including the FT 300 (independent RIA firms) and the FT 401 (DC retirement plan advisers).
ABOUT PAUL R. RIED FINANCIAL GROUP, LLC
Founded in 1986, Paul R. Ried Financial Group, LLC is based in Bellevue, Washington with clients in 32 states. They represent a dedicated and experienced financial team committed to independence and objectivity.
Paul Ried is a Registered Principal and Regional Director of Cetera Advisor Networks LLC, a full-service securities broker / dealer. Securities and Advisory services are offered through Cetera Advisor Networks LLC. Member FINRA/SIPC. Cetera is under separate ownership from any other named entity. Additional information is available at http://www.paulried.com.
Paul R. Ried Financial Group, LLC - 10801 Main Street, Suite 201 Bellevue WA, 98004