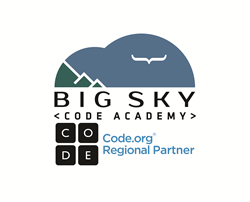 Bringing high tech coding skills to all Montanans is part of the ethos of both these organizations.
Havre, MT (PRWEB) March 31, 2017
Triangle Communications is announcing a scholarship program for people interested in programming. This program will offer $7,000 scholarships to individuals who apply and are accepted into the Big Sky Code Academy's Havre coding boot camp for the full-time program.
A Code.org Regional Partner, Big Sky Code Academy offers 12-week full-time and 21-week part-time web development boot camp for adults seeking to enter the workforce. The Big Sky Code Academy's mission is to bring computer science to all Montanan's from 9 to 90+ through its 18+ boot camp, its Montana Code Girls youth, and its Montana Teachers Teaching Tech K-12 educator programs.
Triangle Communications mission is to deliver technology solutions that break boundaries, create opportunities and build connections. Pursuing their vision to inspire endless possibilities anytime and anywhere, Triangle Communications is offering five (5) competitive scholarships to learn 21st century web development skills by attending the Big Sky Code Academy's boot camp. The full-time class will be held at Triangle Communications.
"This an excellent opportunity to bring technology career opportunities to North Central Montana. Through the partnership with Big Sky Code Academy, Triangle Communications is excited to invest in our communities to promote technology, and address a growing need for a technology based workforce." Ben Calvert, Triangle Communications.
"We are excited to partner with Triangle Communications to bring this unique opportunity to Havre and Montana's Hi-Line community" said Devin B. Holmes, Big Sky Code Academy – Founder. "Partnering with innovative companies to bring high tech coding skills to all Montanan's regardless of location is part of the ethos of our organization. This scholarship opportunity is an example of that strategy."
Information about the Hi-Line High Tech Scholarship program can be found here: http://www.bigskycodeacademy.org/bsca_havre
More information about the Big Sky Code Academy and its initiatives can be found at http://www.bigskycodeacademy.org
More Information about Triangle Communications can be found here: http://www.itstriangle.com/code