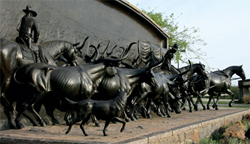 Duncan, OK (PRWEB) April 01, 2017
2017 marks the 150th anniversary of the first cattle that "headed north to Abilene." Over the next 20 years, millions of head of cattle traveled the route in the largest man made migration of animals in history which has now become known as the Chisholm Trail.
To celebrate the anniversary, Texas, Oklahoma and Kansas invite you to follow along the trail as it crisscrosses Highway 81 from south Texas to Abilene, Kansas. Glimpse into the cowpokes' lives while visiting trail museums and heritage centers with local restaurants, lodging, boutique shopping and more to round out the experience. Along with attractions along the trail, each local area will also feature upcoming events specifically related to the Trail throughout 2017.Visitors to the Duncan, OK area will be able to celebrate with a number of upcoming special occasions.
To kick-off the 150th year, the Chisholm Trail Heritage Center in Duncan, OK will host a CT150 Cowboy Camp. The performance by Wallace Moore, who will portray a historic cowboy, will begin at 10:00 AM and end at 2 pm on April 1, 2017. The come and go event will be held at the Chisholm Trail Heritage Center at 1000 Chisholm Trail Parkway.
The following weekend on April 8th, join the Chisholm Trail Heritage Center for an evening of entertainment and Chisholm Trail nostalgia at the Chisholm Trail 150th Celebration Silent Auction and Gala. The event is scheduled from 5:00-6:00 pm with an Open House for the public at the center and then those with reservations will move at 6:00-10:00 PM to the Simmons Center, located at 800 Chisholm Trail Parkway, for the gala. A reservation is required to attend the gala. More info is available at the Chisholm Trail Heritage Center at (580) 252-6692.
Later in the summer, join the Chisholm Trail Heritage Center to celebrate cowboy history with the annual National Day of the Cowboy on July 22 from 10:00 AM-5:00 PM. Attendees will have the chance to see the 4D Experience Theater, watch animatronic Jesse Chisholm near the campfire, listen to live music and meet special guests. The 2017 National Day of the Cowboy event will focus on celebrating the 150th Anniversary of the Start of the Chisholm Trail and is free to the general public that day.
To round out the 150th celebration in Duncan, you'll find the theatrical performance and discussion of songs from the All-American Playbook discussing the 1800's and the American West. The performance and review is scheduled for July 23 from 3:00-4:30 PM at the Chisholm Trail Heritage Center.
To learn about all of Duncan's upcoming events related to the celebration, please call the Chisholm Trail Heritage Center at 580-252-6692. If interested in the other variety of events scattered along the trail, please visit http://www.chisholmtrail150.org.