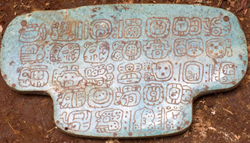 Think Indiana Jones and Marion Ravenwood with a personal valet looking after them
San Ignacio, Belize (PRWEB) April 04, 2017
The recent discovery of an "extraordinary" ancient Maya jade pendant in Belize came just as The Lodge at Chaa Creek prepared to announce 2017 Maya adventure vacations that add new dimensions of luxury to Maya temple exploration, according to the popular Belizean eco-resort.
"It was a nice coincidence that a major new archaeological find coincided with our announcement of new Maya adventure vacations that harken back to the days of classic archaeological exploration," Chaa Creek marketing administrator Roberto Harrison explained.
"Think Indiana Jones and Marion Ravenwood with a personal valet looking after them," he added.
"After an exciting day of exploring ancient temples or wading through a sacred ceremonial cave filled with sacrificial altars, pottery, jade axe heads and even the skulls and the crystallised skeletons of sacrifice victims, they'd be enjoying a drink in their private Jacuzzi while the butler oversees the preparation of an exquisite dinner.
"It sounds like the stuff of a great adventure film, but it's something we can and do make happen with our new luxury adventure packages.
"And now this new discovery of an extraordinary Maya jade pendant adds even more excitement to the picture," he said.
Mr Harrison was referring to what has been described as the "extraordinary" discovery of a jade pendant at the Maya archaeological site of Nim Li Punit in southern Belize in late February 2017.
A team of Belizean researchers and archaeologists and graduate students from the University of California, San Diego were excavating an ancient palace when they discovered a tomb estimated to date back to 800 AD. Among pottery and other artefacts they unearthed a large jade pectoral ornament, the second largest piece of Maya jade ever found in Belize, and even more remarkable for being inscribed with over 35 hieroglyphs that provide a fascinating insight into the socio-political life of Belize's ancient Maya civilisation.
The T-shaped pendant, measuring 7.4 inches (18.8 cm) wide, 4.1 inches (10.4 cm) high and just 0.3 inches (0.8 cm) thick, would have been worn on the chest of an ancient ruler, according to Professor Geoffrey Braswell, who said it was extraordinary for several reasons;
"Sawing it into this thin, flat form with string, fat and jade dust would have been a technical feat. But what makes the pendant even more remarkable is that it's the only one known to be inscribed with a historical text," he explained.
Mr Harrison said the find shows that there are still many ancient Maya treasures and secrets waiting to be unearthed in Belize.
"When you consider how many ancient Maya artefacts have been discovered in Belize, and how much of the country still remains unexplored under the canopy of vast tracts of jungle, you can understand why Maya research is so exciting here. The original, real life Crystal Skull of Indiana Jones fame was actually discovered in Belize, and it stands to reason that many more treasures are still waiting to be found."
Chaa Creek was an important trade and agricultural centre for the ancient Maya, Mr Harrison explained. Located on the Macal River, part of a major aquatic trade route linking the highlands of Guatemala to the Caribbean seacoast, and situated between the thriving metropolises of Caracol and Tikal, it was a vibrant and well-populated part of the Maya empire.
"Today that location gives our guests easy access to those ancient cities and other Maya archaeological sites, so that over the years we have assisted thousands of people in exploring this fascinating culture with tours and expeditions to all the major sites, including ceremonial caves like the incredible Actun Tunichil Muknal, or ATM, and offer all-inclusive Belize vacation packages that are easy, affordable, and very comprehensive," he said.
The new 2017 luxury Maya tours combine adventure with a remarkable degree of comfort, he added.
"Late December 2016 we opened the Ix Chel luxury Rainforest Villas, which are already gaining a worldwide reputation for offering unparalleled luxury in a pristine rainforest setting. Fronted with floor to ceiling glass windows and doors looking out onto a private veranda surrounded by lush jungle, and featuring private Jacuzzis, plunge pools, al fresco showers and other comforts, they offer stunning views and privacy. And with a dedicated personal butler and easy access to our fine dining restaurant, infinity pool, spa and other amenities, Indiana Jones never had it so good.
"By combining the Ix Chel Luxury Villas with our existing Maya adventure packages, and working closely with guests to craft expeditions that match their interests and levels of fitness, we can offer bespoke Maya adventures that recall the early days of classic exploration, such as those to the pyramids of Egypt, the Inca cities of Machu Picchu, or Angkor Wat in Cambodia.
"A day exploring some of the world's greatest ancient culture landmarks followed by extreme pampering in your own villa, enjoying candlelit dinners and then waking the next morning looking out on a beautiful jungle and tropical river setting is one of those experiences even the most jaded, if you'll excuse the pun, adventurer would savour.
Mr Harrison said travellers have the choice of selecting an existing Maya adventure package with the Ix Chel Villa upgrade, or they may work with Chaa Creek's dedicated Maya adventure planning staff to craft a personalized adventure, "Whether you choose an off the rack or bespoke adventure, you can be assured it will be extraordinary," he said
"You can also be assured of cultural respect and sensitivity, and that with Chaa Creek's award winning commitment towards sustainable tourism, including our Chaa Creek Cares initiative that sees 10% of all room revenue going directly into environmental and community projects, your adventure will actually contribute to the land and people of Belize."
Mr Harrison said he encouraged travellers to contact their travel agents or Chaa Creek directly for more details.
"Belize has always offered the world's best opportunities for Maya exploration," Mr Harrison said, "And now, these new luxury options offer even those most jaded adventurers an experience they'll be talking about for years."
The Lodge at Chaa Creek is a multi award winning eco resort set within a 400-acre private nature reserve along the banks of the Macal River in Belize. It was recently recognised by National Geographic with first place honours at the 2017 World Legacy Awards in Berlin.
ENDS