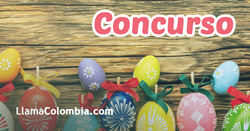 Atlanta, Georgia (PRWEB) April 02, 2017
Easter in Colombia is one of the busiest and most significant times of the year. So, how can Colombian expats experience Easter if they are miles away from home? By calling their family and friends back home in Colombia more often. To help them stay connected, LlamaColombia.com is launching a special Easter offer: 10% off the "Colombia 500" monthly plan. This means that instead of $9.49, the standard cost of the "Colombia 500" monthly plan, customers will pay $8.54 and get the same number of minutes: 500 minutes, which can be used both for calling landlines and mobiles. To benefit from this offer, customers need to add the coupon code BONU5MP when placing their order. The discount is valid only for the first month and the promotion is open starting April 4 until April 6.
Besides the discount, customers also get the chance to win $10 of free Voice credit. All they have to do is share what they love the most about Easter on LlamaColombia's Facebook page.
The contest is open starting April 4 and customers may add their comments by April 11. The winner will be chosen randomly.
The international calling service offered by LlamaColombia.com is intuitive and simple to use, since calls can be placed from:
1. any phone through the use of access numbers
2. any computer with an Internet connection through the Web Call application or
3. any smartphone as LlamaColombia.com offers a free app, for both iOS and Android devices, called KeepCalling. By using the free app, customers can make calls by using their phone contacts as long as they are saved in international format.
Mobile Recharge is a service that helps customers recharge their phones anywhere in the world. The process is fast and secure, and the credit reaches its destination instantly. The operators available for top ups to Colombia are Tigo, Movistar, Claro, Uff Móvil, Virgin Mobile, Avantel, ETB, and UNE.
The mission of LlamaColombia.com is to bring people together, no matter the distance, because no distance is too great if people stay connected. That's why all the services the website offers are a great solution for keeping a close relationship with everyone living back home in Colombia. This is mainly due to:

the customer-focused approach, based on safe and easy to use services
the frequent special offers: bonuses on international top ups or discounts on international calls
the great Customer Service available 24/7, both in English and Spanish.
About LlamaColombia.com
LlamaColombia.com is an interactive website designed by KeepCalling, a global telecommunications company registered in 2002 in USA. Presently, KeepCalling provides its services to hundreds of thousands of consumers and businesses worldwide, with a focus on customer satisfaction. KeepCalling has been listed by Inc 5000 as one of the fastest growing companies in the USA for 5 consecutive years. In 2015 the company registered a revenue increase of over 200% from 2011 to 2014.