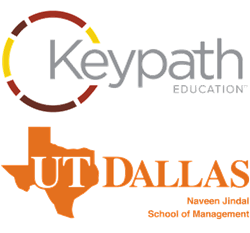 We trust Keypath to help us find the right students for our renowned Executive Education programs. --Pamela Foster Brady, director of the Jindal School's Executive MBA programs
KANSAS CITY, KS (PRWEB) May 24, 2017
Keypath Education announces a partnership with the Executive Education MBA programs in the Naveen Jindal School of Management at The University of Texas at Dallas. Keypath Education, a full-service marketing partner for higher educational institutions worldwide, will support the executive education program through market research, inbound marketing and digital media services.
"We trust Keypath to help us find the right students for our renowned Executive Education programs," said Pamela Foster Brady, director of the Jindal School's Executive MBA programs. "Their experts develop detailed strategies that are supported by comprehensive industry- and school-specific research. Together, we will be able to help students find success and advance in careers meeting the needs and expectations of top employers."
The Jindal School's Full-Time MBA was ranked No. 12 among U.S. public university programs by BLOOMBERG BUSINESSWEEK in 2016 and No. 16 by U.S. NEWS & WORLD REPORT in 2017. This year, U.S. NEWS & WORLD REPORT also ranked the Professional MBA as No. 7 among Best Online MBA Programs.
The robust suite of MBA, MS and Executive Education programs at the Jindal School include several options that cater to a wide variety of interests and career objectives. With five formats, from full-time, evening, flex, online and executive education options to 15 concentrations and an Executive MBA and Global Leadership Executive MBA, the school prepares students at many levels and career paths with an education that will equip them for high-demand roles in the C-Suite.
"We're proud to partner with Executive Education programs at Jindal School UT Dallas," said Keypath Group President Mike McHugh. "Not only do the high-caliber Executive MBA programs lay the groundwork for successful careers, the faculty and staff are also savvy in knowing in which areas to focus and what is needed to reach and develop today's student."
To learn more about Executive Education programs at the UT Dallas Naveen Jindal School of Management http://jindal.utdallas.edu/emba-programs/
For more information, please contact Angela Connelly, senior marketing manager at angela.connelly(at)marketing.keypathedu.com or 913.254.6964
About Keypath Education
Keypath Education partners with higher education institutions worldwide to launch programs, grow enrollment, improve learning and connect education to careers by focusing on outcomes. The company has helped more than 4,000 higher education institutions better serve students and graduates, resulting in a strong reputation for its education mission and quality in the United States, Canada, the U.K. and Australia. Since its beginning more than 25 years ago, Keypath Education has been dedicated to changing lives through education.