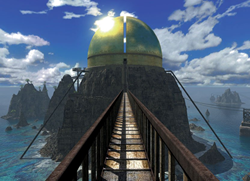 Spokane, WA (PRWEB) April 26, 2017
Cyan, Inc., the legendary indie studio, maker of some of the most beloved games of all time, released its best-seller Riven on Android today for $6.99 USD, downloadable worldwide on Google Play and Amazon. Published by the award-winning Noodlecake Studios which brought realMyst to the platform earlier this year.
"I'm truly amazed that we can transport explorers from the personal comfort of their phones or tablets to the intricate worlds we first created decades ago," said Rand Miller, CEO, Cyan. "Even while our work is being placed in museums and nominated for the Video Game Hall of Fame, its wonderful that a new generation of gamers is able to experience and appreciate the work that went into Myst and Riven."
"We're once again so honored to be working with such a storied franchise. Riven is truly a masterpiece that reveals itself quite intimately with the pocket experience," said Ryan Holowaty, COO, Noodlecake Studios.
One of the best-selling franchises of the last millennium, Myst and Riven continue to influence gaming and pop culture to this day. Myst debuted at the birth of the gaming industry in 1993, and the sequel Riven followed in 1997 with much fanfare led by Steve Jobs who showcased the game at his Macworld keynote. The games came to iOS in 2009 and 2012, respectively.
Taking up where Myst left off, get to know the Age of Riven with meticulously remastered sights and sounds that lets you explore Atrus' trap book, the Moiety intervention, the mag-lev ride, Jungle Village, Catherine's prison, Gehn's Age, the Wahrk throne, and all the mysteries of the island with just a simple touch or swipe.
The Riven Android app features:

All of the original Ages and gameplay
Bluetooth controller support for Android phones, tablets, and NVIDIA Shield
Award-winning Riven score by Robyn Miller
Full screen movies and animations, full music and sound effects
Auto-save and multitasking, bookmark system to save and restore progress
Advanced navigation - swipe to turn, zoom in anywhere for more detail
Google Play Games achievements
Hot Spot hints, Integrated Hint Guide
Enjoy the debut trailer here:
https://youtu.be/Jp1luk7wYfo
About Cyan
Cyan is an indie games studio headquartered in Spokane, Washington. Best known for award-winning games Myst and Riven, currently available on PC, Mac, iOS and Android. Cyan's latest game, Obduction, is a critically-acclaimed sci-fi thriller available on Steam, GOG, Humble Store and Oculus Store for PC, Mac, Rift and Vive, coming soon to PS4 and PSVR. For more information, visit http://www.cyan.com.
About Noodlecake Studios
Noodlecake Studios is a small indie game studio based in Saskatoon, Saskatchewan, Canada. Founded in early 2011, Noodlecake launched its first game, Super Stickman Golf and has since expanded into third party publishing, releasing games on multiple platforms. For more information, visit http://www.noodlecake.com.
Media Contact
Martine Paris, Director of PR, Cyan, Inc., martine(at)cyan(dot)com
Riven on Google Play
https://play.google.com/store/apps/details?id=com.noodlecake.riven
Riven on Amazon
https://www.amazon.com/gp/mas/dl/android?p=com.noodlecake.riven
Riven on App Store
http://itunes.apple.com/us/app/riven-the-sequel-to-myst/id400293367
realMyst on Google Play
https://play.google.com/store/apps/details?id=com.noodlecake.realmyst
realMyst on Amazon
https://www.amazon.com/gp/mas/dl/android?p=com.noodlecake.realMyst
realMyst on App Store
https://itunes.apple.com/us/app/realmyst/id524988885