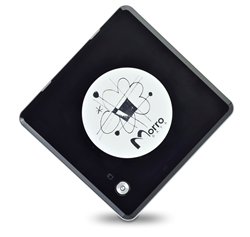 "What is good for enterprise is also beneficial for small and medium businesses. However, the same technology needs to be redesigned to be more user friendly, more affordable, and more integrated."
(PRWEB) March 31, 2017
MORRO DATA ACCELERATES CLOUD WITH CACHE AND SYNC
Files Are Stored in the Cloud, Cached Locally, and Synced Globally
Morro Systems an innovator in file transfer and storage solutions for SMBs has launched its Morro Data Cached Cloud Service. Using Morro Data, SMBs can easily sync, share, transfer and save unstructured files across sites, between business partners and into cloud storage.
Media and Entertainment, Biotech, Design houses, and others generate large workflow files that must be stored safely and distributed both internally and externally to clients. Big Data is here and files are getting larger. With the Morro Data Cached Cloud-on-LAN file access experience, users enjoy a familiar drive letter interface. File sync and cloud storage becomes a simple drag-and-drop operation, eliminating time consuming uploads and bypassing PC storage limitations.
"We're delighted to be partnering with Morro Data and have tested axle 2017 with the CacheDrive, with excellent results," said Sam Bogoch, CEO of axle Video, the leading vendor of affordable media management software. "We believe this solution offers powerful new capabilities for video teams who have to edit and review media at multiple locations. Before this, synchronizing files at 2 or more locations would have taken complex and sophisticated tools, or a lot of manual effort.  Morro makes it easy, with familiar network-volume shares for each site."
"What is good for enterprise is also beneficial for small and medium businesses. However, the same technology needs to be redesigned to be more user friendly, more affordable, and more integrated," said Paul Tien / Founder & CEO of Morro Systems. "We designed the Morro Cloud and associated CacheDrive device using our innovative xCache O/S and Morro Sync Engine technology, to vaporize drives into the cloud while keeping high performance through a local cache. Small and Medium Business can now also experience the benefits of cloud storage and convenient file transfer with a Fast, Simple and Affordable solution."
Morro Data solution benefits include:

Convenient File Transfer, Sync and Share: Large files uploads require FTP which is manually intensive and error prone. Cloud Storage apps require the PC to be active and use limited drive space. With Morro Data CacheDrive, file transfer, sync and share is as easy and quick as drag-and-drop.
Affordability: With no per-user fees, Morro Data is more cost effective and encourages adoption across the company instead of islanding users to reduce charges. CacheDrive also saves on internet bandwidth charges while the Global File System eliminates the need for complex VPNs to share data securely.
Internet Bandwidth Optimization: With Cached Cloud, files only need to be transmitted once per location with all users in that location accessing the locally cached copy. The Morro sync technology ensures files are fully deduped saving on repeat transmissions.
Global File System, VPN Elimination: The Morro Data Global File System single namespace means all users see all permitted files irrespective of location, and there is only one authoritative version per file. Files saved in one location are available to all, while permission controls provide fine grain data security. IT managers can eliminate complex VPN setup, enhancing group productivity and user satisfaction.
Intuitive and Centralized Management: The Morro Cloud Manager improves IT manager productivity, through centralized management of the worldwide deployment and enhanced performance and usage metrics.
IT Productivity: With the CacheDrive, IT Managers are freed from time consuming NAS maintenance, risk of drive failure and laborious VPNs and FTP transfers between sites.
Internet Outage Resilience: SMB and ROBO often have weaker internet access. With CacheDrive, active files are accessible even if the Internet link is down, and cloud sync auto restarts on link restoration.
Continuous Backup and Recovery: Unlimited, seamless, cloud storage expansion and file versioning provides integral data protection and simplified file recovery.
Secure Private Cloud: All files are encrypted at rest and in transit.
Businesses using Dropbox and OneDrive can experience cache-accelerated uploads and file sync to their Cloud Storage. "Morro Data has transformed how we transport files between our offices. With each office coming online while the other is going offline, efficient transferring of large files is top priority to EIGHT25MEDIA. Morro's Cache Cloud Acceleration allows our designers to upload large files in seconds compared to the 30 to 40 min they were spending each day with our previous cloud storage solution. We also love the cost savings from the bandwidth efficiency and elimination of per user fees." – Head of Digital Strategy, Jahzeel Omar of EIGHT25MEDIA said.
Companies like Nasuni, Panzura and Ctera have brought the benefits of cloud storage to enterprises with the cloud storage gateways and hybrid NAS products. Morro Data now brings these same benefits to the SMB.
"Excited to see Morro Data being available," said Ben Woo, Principal Analyst of Neuralytix based in San Francisco. "Many small and medium businesses are interested in moving to cloud storage to get the Opex and operational benefits but are put off by the complexity, per user costs and need to retrain IT staff. Now for the first time, they can get this through Morro Data."
The Morro Data service will be introduced at the Intel Solutions Summit -EMEA, the premier event for Intel® Technology Providers, April 4-6, 2017 in Madrid. The Morro CacheDrive based on Intel NUC and high performance Intel® processors has a convenient appliance form factor.
To learn more about Morro Data please visit our site.
About Morro Systems
Morro Systems empowers Small and Medium Businesses, Design Houses and Service Bureaus with Simple, Fast, Affordable Enterprise class Cloud Storage and Accelerated File distribution. The Morro Data Cached Cloud Storage service features the CacheDrive (a cloud storage gateway) and the Morro Cloud (built on Amazon S3). Files are stored in the cloud, cached in the gateway and synced globally. Morro Systems was founded by Paul Tien (founder of ReadyNAS, acquired by NETGEAR) and his core team. Please visit morrodata.com for more information.
Copyright © 2017 Morro Systems, Inc., Morro Data, CacheDrive, xCache are trademarks and/or registered trademarks of Morro Systems, Inc. and/or its subsidiaries in the United States and/or other countries. Other brand names mentioned herein are for identification purposes only and may be trademarks of their respective holder(s). Information is subject to change without notice. All rights reserved.
If you would like more information about this topic, please contact Rehan Fernando, VP of Marketing, Morro Systems, at (510) 398-1170 or email at rehan(at)morrosystems(dot)com.