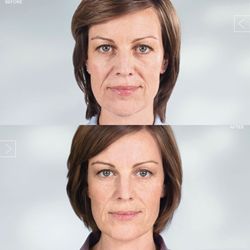 "It can help restore skin firmness and volume even after decades of collagen loss." - Director and founder of Pacific Dermatology & Cosmetic Center, Jennifer Reichel, MD
Seattle, WA (PRWEB) April 05, 2017
Sculptra® restores volume and youthful facial contours with long-lasting and natural-looking results. This nonsurgical treatment helps build volume by gradually replacing lost collagen — an underlying cause of facial aging. Results can last more than two years.
Sculptra® is made with biodegradable microparticles called poly-L-lactic acid (PLLA). As the microparticles are naturally absorbed by the body, they help stimulate collagen production deep within the skin. Gradually, collagen strands are rebuilt, and facial volume and structure are restored. Sculptra® provides wrinkle reduction outcomes with little to no downtime.
"What's particularly unique about Sculptra," stated Dr. Reichel, "is that it can help restore skin firmness and volume even after decades of collagen loss. Starting around age 20, we lose about one percent of collagen per year, and our skin loses elasticity. Sculptra offers full facial restoration as collagen is stimulated deep within the dermis."
Unlike other fillers, Sculptra® is administered over a series of injections, so results become apparent over time, and last much longer. "Many of my patients are concerned about looking overdone with injectables. Since Sculptra gradually takes years off their appearance, even their friends don't suspect they've had work done," noted Dr. Reichel. "Within a few months, patients simply look rejuvenated and rested." 
To celebrate this new service, Dr. Reichel will be offering a discounted price until April 30th, 2017.  For more information about Sculptra® visit: http://www.pacificdermcenter.com or call 206-859-5777
About Pacific Dermatology and Cosmetic Center
Founded and directed by Dr. Jennifer Reichel, Pacific Dermatology & Cosmetic Center is a leading Dermatology practice in the Northwest. Our mission is to provide compassion, safety, and trust for all our procedures for from general dermatology, skin cancer, to the most innovative cosmetic treatments. Visit us for a consultation and learn about treatments that keep you young and confident for the years to come.