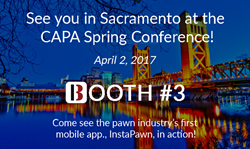 Bravo continues to charge ahead with innovation, eCommerce, new applications, Mobile, Machine Learning AI, and best practices that drive efficiency and profits for Pawnbrokers, said Tally Mack, CEO
LAS VEGAS, NV (PRWEB) April 02, 2017
Bravo Pawn Systems, the fastest-growing software platform for Pawnbrokers, will announce its new "Mobile Shop" feature in InstaPawn -- the industry's 1st mobile app -- at CAPA's Spring Conference on April 2, 2017.
With InstaPawn, customers can now shop their favorite pawn stores 24/7 from the convenience of a mobile phone. InstaPawn allows customers to see all their pawn transactions and even make a payment in the app. For Pawnstore owners, the transaction is 100% automated and funds are directly deposited into their account. Pawn stores can literally double their pawn service fees and layaway business by allowing customers to pay on mobile.
Attendees at CAPA (California Pawnbroker''s Association) Spring Conference on April 2, 2017 can see InstaPawn in action at Bravo's Exhibit in Booth #3.
"In 2017, we expect over 500 stores added to the Bravo Platform, and we're on target for the best year ever with the biggest pawn shop brands switching to Bravo. Pawnbrokers of all sizes - single store, multiple store operators, and international enterprises are choosing Bravo," said Tally Mack, CEO of Bravo Pawn Systems.
Mack added, "Bravo continues to charge ahead with innovation, eCommerce, new applications, Mobile, Machine Learning AI, and best practices that drive efficiency and profits for Pawnbrokers."
"We're excited to show CAPA attendee's the newest features in Bravo," Mack said.
Bravo Pawn Systems is exhibiting at CAPA's Spring Conference in Booth 3.
###
About Bravo Pawn Systems
Founded in 2010, Bravo Pawn Systems is the Fastest-growing Pawnbroker Platform with customers in the USA, Europe, Mexico and Canada. Built with the features pawnbrokers need most. Bravo's mission is to exceed pawnbrokers' expectations by offering affordable, yet high-value services, without the burden of complicated hardware and back-ups. For more information about Bravo Pawn Systems, please visit http://www.bravopawnsystems.com
Bravo Pawn Systems Contact:
Debby Ford, Media Relations
(888) 407-6287 ext 142
debby(at)buya(dot)com