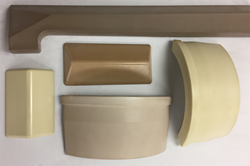 Participating in the world's premier aircraft interiors event is an exhilarating environment to connect with customers, and to ensure that General Plastics remains proactive in addressing evolving industry needs.
Tacoma, Wash. (PRWEB) April 03, 2017
General Plastics Manufacturing Company, a recognized supplier of high-performance rigid and flexible foams and build-to-print parts to the aerospace industry, is looking forward to being a part of the Washington State Department of Commerce delegation at the 2017 Aircraft Interiors Expo in Hamburg, Germany, April 4-6. The company will showcase its lightweight, flame-retardant LAST-A-FOAM® rigid foam sheets and blocks, its rigid and flexible foam molded parts and its flammability testing services. General Plastics will be exhibiting at Booth 6070/F in the Hanse Pavilion.
"Aerospace OEMs and Tier 1 and 2 suppliers have relied on General Plastics for novel, high-value solutions for 75 years," said General Plastics President Mitchell Johnson, PhD. "Participating in the world's premier aircraft interiors event is an exhilarating environment to connect with customers on their projects, challenges and opportunities, and to ensure that we remain proactive in addressing evolving industry needs."
Rigid Foam Sheets, Blocks and Molded Parts
Visitors to General Plastics' booth will be able to view examples of finished products made with the company's signature LAST-A-FOAM® for aerospace interior applications. Thanks to their unique chemical formulas, these products are exceptionally uniform and consistent in all physical properties, as well as strong, durable and versatile. The wide spectrum of foam products and densities accommodates customers' diverse application specifications, including tooling and panel cores.
Holding up to stringent compliance requirements
General Plastics' lightweight, FST/OSU-compliant FR-3800 FST rigid foams satisfy concurrent requirements for physical properties, fire safety, design flexibility and cost efficiency. This halogen-free foam series – along with LAST-A-FOAM® FR-4700 (for applications with peak temperatures up to 400°F) and FR-6700, which complies with aerospace specifications – are also supplied as complex molded or cast parts. This rigid, self-skinning foam can be shaped based on customers' requirements, including specifications on texture and color.
Flexible Foam Molded Parts
In addition to rigid foam sheets, blocks and molded parts, General Plastics produces custom molded parts manufactured from flame-retardant, self-extinguishing and self-skinning flexible polyurethane foam materials. Typical molded parts include flight deck components, such as glare shields, HUD covers and kick strips, as well as bin-to-bin closeout seals, header seals and armrest pads. These are complemented by services which include design of parts and tools, manufacture of mold tooling, and end-to-end production of parts.
General Plastics' proven build-to-print capabilities and high-capacity production facilities enable it to scale production from small runs of specialty parts to ongoing, high-volume parts programs for OEMs and Tier 1 and Tier 2 aerospace suppliers.
FAA-Certified Flammability Testing Services
Expo attendees can also learn more about General Plastics' sought-after testing services. Its FAA-approved on-site testing laboratory provides a full range of flammability and smoke-related testing:

Heat Release
Smoke Density
Smoke Toxicity
Insulation Flame Propagation
FAA Bunsen Burner
Seat Cushion Oil Burner
Representatives will be on hand at the booth to discuss these capabilities and provide expo attendees with a sense of General Plastics' commitment to customer service, continuous improvement, problem solving and the aircraft interiors industry.
About General Plastics Manufacturing Company
Tacoma, Washington-based General Plastics Manufacturing Company has been a leading innovator in the plastics industry for 75 years. The company develops and manufactures rigid and flexible polyurethane foam products, which include its signature LAST-A-FOAM® brand series and build-to-print composite parts.
Directly or through its network of distributors, General Plastics serves the aerospace and defense, nuclear packaging, composite core, prototype and modeling, construction, dimensional signage, testing and marine industries. General Plastics is certified to ISO 9001:2008/AS9100C and meets the rigorous demands of numerous leading quality systems, which include NQA-1, Mil-I-45208A and Boeing Company D6-82479. Please visit http://www.generalplastics.com.