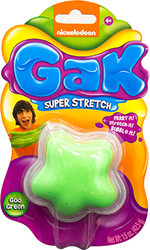 These compounds are so incredible and so much fun, they are nearly impossible to put down!
New York, NY (PRWEB) April 04, 2017
Squish it, stretch it, bubble it, frrrt it! Imagination and wholesome play for today's kids reach a messy milestone as NSI International Inc. – makers of the wildly popular Wubble® brand of products –reinvigorate the play category by redesigning Nickelodeon's classic compounds, Slime and Gak, available now at major retailers.
Finding initial popularity in the '90s, Slime and Gak are the kind of ooey gooey fun that just happen to be totally on trend with what today's kids love. Slime is Nickelodeon's iconic green goo, while Gak is stretchy, bouncy and can even be used to blow bubbles and make some pretty surprising noises.
"These compounds are so incredible and so much fun, they are nearly impossible to put down," says Brian Waldman, Sr Vice President of NSI and father of two boys who can't seem to get enough of these compounds.
NSI's continued innovation with play compounds and commitment to quality and play value has delighted children with Slime and Gak for the last 6 years. "We look forward to our continued partnership with Nickelodeon, allowing us to continue making childhood just a little bit more fun!" said Frank Landi, NSI president.
Slime and Gak products are available in many forms at retailers nationwide for under $10.
ABOUT NICKELODEON
Nickelodeon, now in its 37th year, is the number-one entertainment brand for kids. It has built a diverse, global business by putting kids first in everything it does. The company includes television programming and production in the United States and around the world, plus consumer products, online, recreation, books and feature films. Nickelodeon's U.S. television network is seen in more than 90 million households and has been the number-one-rated basic cable network for 20 consecutive years. For more information or artwork, visit http://www.nickpress.com. (NASDAQ: VIA, VIAB).
© 2017 Viacom International Inc., All Rights Reserved. Nickelodeon Gak, Slime, and all related titles, logos and characters are trademarks of Viacom International Inc.
ABOUT NSI INTERNATIONAL INC.:
NSI International Inc. is an award winning manufacturer of innovative children's products under such established brands as Wubble™ Bubble Ball, Smithsonian® Science and Oglo™ sports. NSI is headquartered in New York City. Its products can be found in thousands of retail locations in more than 30 countries around the globe. © 2017 NSI International, Inc. All Rights Reserved.