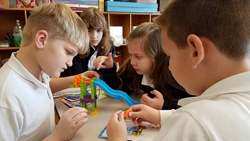 Chicago, Illinois (PRWEB) April 04, 2017
Kids across the country are getting a hands-on science lesson thanks to a new partnership between Chicago-based toy manufacturer Learning Resources®, various YMCA after school programs and real-life scientists.
"Science is Cool is an initiative intended to inspire children to love science," said Marie LaPlante, Chief Marketing Officer for Learning Resources. "80% of kids would rather take out the garbage than do their science homework, so we're showing them that science is fun!"
Learning Resources is gifting participating YMCA programs with a set of new STEM toys, but the company isn't stopping there. As part of the Science is Cool campaign, Learning Resources is bringing in scientists, like Damon Lane, Chief Meteorologist at KOCO-TV in Oklahoma City, to talk to children in YMCA after school programs to show different and fun aspects of what scientists do in April.
Research shows that 30 percent of parents with children in elementary school say there's too little emphasis on science. To make science engaging, kids want to see more of the fun elements they can touch and feel as opposed to hearing lectures in a classroom. International tests show that American students aren't measuring up in the math and science departments. The recent Program for International Student Assessment (PISA) study shows that the U.S. ranks 28th globally in science.
Sparking an interest in science, technology, engineering, and math at an early age helps children explore their limitless potential and how they can truly have fun while learning and experimenting. Kids love making a volcano erupt, mixing different solutions with a lab set and learning to code without computers.
"It's amazing how many parents push their kids into sports and devote hours a day to sports but not to studies and subjects like science." Lane said. "We need to make 'being smart' cool."
Jason Lindsey of Hooked on Science is also partnering with Learning Resources for the campaign. Lindsey is using some of the company's STEM toys, like the Engineering and Design: Playground Building Set and the Primary Science Deluxe Lab Set as part of his presentations to introduce kids to engineering and science in a fun and engaging way.
The new 2017 STEM building toy teaches children how to build different pieces of playground equipment in a hands-on, fun way and the lab set enables them to have a blast while conducting their own experiments.
About Learning Resources: Learning Resources® is a leading global manufacturer of innovative, hands-on educational products trusted by teachers and parents and loved by children. The Company's 1100+ high-quality products are sold in more than 80 countries, serving children and their families, preschool, kindergarten, primary, and middle-school markets.
To learn more about the Science is Cool program, watch this VIDEO.
For more information, visit http://www.learningresources.com, or follow us on Twitter @LearningHandsOn, Facebook @LearningResources and Instagram @learningresources.