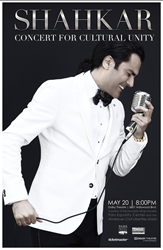 It is time for the world to realize that we must come together and unite in the spirit of humanity.
Los Angeles, CA (PRWEB) April 03, 2017
Musical performer Shahkar—a gifted intellectual, singer/songwriter, composer and musician who has been referred to as the Frank Sinatra of Persia—hosts a special humanitarian "Concert for Cultural Unity" on Saturday, May 20, 2017, at 8:00 p.m., at the Dolby Theatre (6801 Hollywood Boulevard, Hollywood, California), Home of the Oscars®.
Also known by his longer moniker of Dr. Shahkar Bineshpajooh, he performs his original music in Farsi, drawing sold out crowds around the globe—from London and Hamburg to Toronto, Chicago and New York. He also sings classic covers in English and Spanish, including "Sway," "Besame Mucho" and "Quizas"—sometimes as duets with popular guest performers. He promises an unprecedented night to remember with his messages of peace, love, freedom and unity that will be accompanied by a full orchestra, dancers and a multi-level stage.
Shahkar is best known for his words and lyrics of universal spirituality. One of his most famously quoted songs states, "If you are Muslim, Jewish or Christian, it doesn't matter. Just be a good human." His music is original and his politics promote peace. He writes, composes and performs; he will sing and play the piano at the Concert.
Shahkar says, "Now more than ever, I want to spread positive messages of cultural unity, not just for the U.S. and Iran, but for the entire globe. It is time for the world to realize that we must come together and unite in the spirit of humanity. It is the way to a better future."
This multi-talented renaissance man is not your average pop star. A published poet with a Ph.D. in Urban Planning, Shahkar was also a university lecturer in Tehran, Iran, before he was granted his green card to the U.S. in 2013—in just 13 days under the EB-1 "Extraordinary Ability" Visa. He had grown frustrated, as he was not allowed to teach his last year in Iran, and he wanted to be able to perform his music and grow as an artist.
His five books of poetry, numerous concerts and multiple albums were banned in his native home of Iran, and being so creatively stifled by his native country—and not agreeing with the extreme politics—was the impetus for his immigration to the United States.
This concert is a humanitarian mission of peace. As a fairly new immigrant in the U.S., he is proud to say that he has also provided well over 1,000 jobs to people since he moved to Los Angeles and began performing again. Last fall, his most recent tour took him to sold out crowds in Boston, Houston, Atlanta, Dallas, Toronto and San Francisco.
This self-taught musician started learning drums, guitar and piano at the age of 15. His performance was first banned in Iran in 1995 after his Fusion Music Concert in Tehran, and he was banned again from performing (for five years) after the first and last Pop Music Festival there in 1998. Throughout the 2000s, his books and music were repeatedly banned by the Iranian government for outspoken messages of freedom and the highlighting of atrocities by the existing regime.
Shahkar has performed with renowned singers, dancers and orchestras, including members of more than 20 symphony orchestras around the world.
Popular YouTube videos include live performances of "Havaaye Eshgh" with arrangements by composer Shardad Rohani, "Be to Che" at the Nokia Theater (now Microsoft Theater), which Shahkar performed for a crowd of 5,000 fans in 2013; and "Behesht" ("Heaven") with members of the Ukraine Philharmonic Orchestra.
Shahkar has also produced powerful music videos that reflect his political views on Muslim extremists—for songs like, "The Messenger," which exclaims, "I wish they had conscience instead of faith. I wish they had intelligence instead of religion."
Another music video, "Donyaye Aramesh," features shocking imagery about the challenges citizens face in Iran with the dictatorial government and its militant soldiers.
He is working on new songs and plans to tour again in Fall 2017, and he will continue to spread his global messages of peace for the U.S., Iran and beyond.
Tickets for the May 20th Concert start at $45.00 and can be purchased via the Dolby Theatre website. A portion of the net proceeds from ticket sales (10% split equally) will go towards the American Civil Liberties Union (ACLU) and Pars Equality Center (PEC).
 
About Shahkar
Dr. Shahkar Bineshpajooh, known simply as "Shahkar" to his many fans around the globe, is a Persian pop singing sensation. Performing original music and standard classics in his signature tuxedos has earned him the reputation of an Iranian Frank Sinatra. Born as an only child in Tehran, this singer/songwriter, composer and musician is also a poet and university lecturer with a Ph.D. Before he was born, his parents had decided to name him Shahkar, which translates to "masterpiece." At the age of 15, growing up in a tumultuous political environment, he found solace in writing poetry, and eventually, in music. He had never received any formal musical training and became self-taught in guitar, piano and drums. He then studied political geography, urban planning, and music composition, immersing himself in these academic fields while producing several albums of music and books of poetry, which were mostly banned by the Iranian government due to their messages of peace and freedom. In 2002, he received a Ph.D. in Urban Planning with high honors, and the Iranian Department of Education officially named him the youngest student in the Doctorate program. He emigrated to the United States in 2013 under the EB-1 "Extraordinary Ability" Visa. He currently resides in Los Angeles, and he performs his music whenever possible to continue spreading humanitarian messages of unity, freedom and peace.
Website: shahkar.com
Instagram: @shahkarbineshpajooh
Facebook: facebook.com/shahkar.bineshpajooh
YouTube: https://www.youtube.com/user/shahkarbineshpajooh/videos