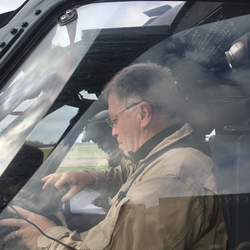 Rogerson Kratos LAAD Defense & Security Rio De Janeiro April 4, 2017 (PRWEB) April 03, 2017
Rogerson Kratos finished the initial fifty flight hour evaluation with high grades. As part of the evaluation, the aircraft was flown by over a half dozen former US Army and Sikorsky UH 60 test pilots for avionics performance, aircraft integration, human factors, and both radio and navigation capabilities.
Satisfactory flight evaluation results allows the aircraft to move to the next phase of integration and testing. The company applied to the FAA to now increase the flight range to include the South East United States, where it will also visit industry events in Huntsville, Alabama, and Tampa, Florida.
Rogerson Kratos CEO, Michael Rogerson, applauded the whole team's efforts. "Thanks, to our dedicated team of employees and industry partners for helping us reach this important milestone in our UH-60 Black Hawk test and evaluation effort. This multi state group including certification authorities, aircraft installers, and a very talented supplier base, together with our in-house Black Hawk team have flawlessly executed the best initial flight tests I've been part of in my thirty year career."
A technical and sales team is attending Defense & Security 2017 following the very successful flight demonstrations of the modernized UH-60 digital cockpit at HAI HELI EXPO. Potential customers, press, and military personnel all had the opportunity to fly and evaluate the aircraft's improved situational awareness and new navigational features.
After the LAAD event where the company exhibit stand will have demonstration hardware, the team will travel on to several South American countries to brief government officials, military maintenance personnel, and pilots.
The Rogerson Kratos offering features the sale, or leasing, of digital modernized cockpit reset UH-60A or, L Models. Alternatively, customers may opt for in-country upgrades of their existing UH-60 and S70 fleets. Benefits include improved safety, enhanced situational awareness, common training and interoperability with Black Hawk M Models, and lower life-cycle costs with improved aircraft availability.
Rogerson Kratos is a world leader in the design, production, integration, and support of avionics and digital electronic systems for commercial and military solutions.