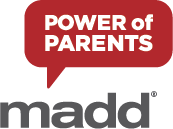 Dallas, Texas (PRWEB) April 03, 2017
In advance of PowerTalk 21 Day on April 21st and during Alcohol Awareness Month this April, Mothers Against Drunk Driving (MADD) and National Presenting Sponsor Nationwide are equipping parents with Power of Parents resources needed to have conversations with their teens, especially before special occasions, such as prom, about the dangers and consequences of teen drinking.
With prom season in full bloom and graduation on the horizon, PowerTalk 21 Day is an ideal time for parents to use the latest tools to enable parents including five new topical guides made available today thanks to the National Alcohol Beverage Control Association (NABCA). These are bite-sized guides, each focused on a specific topic.
"It is our greatest responsibility as parents to have ongoing conversations with our children about the dangers of drinking alcohol before age 21," said Colleen Sheehey-Church, MADD National President whose 18-year-old son was killed by an underage drunk and drugged driver. "MADD, Nationwide and NABCA want to ensure parents have all the right tools to have meaningful dialogues with their children throughout the year and around special occasions where alcohol may be present."
In addition this month, MADD affiliates will host Power of Parents® events and workshops across the country. A study by Centers for Disease Control and Prevention (CDC) shows that "excessive drinking is responsible for more than 4,300 deaths among underage youth each year."
"Spring presents several special occasions, from spring break to prom to graduation, for parents to engage with their teens about critical topics that affect their health and safety," said Bill Windsor, Nationwide Associate Vice President of Consumer Safety. "Our partnership with MADD is a visible demonstration of how families can Make Safe Happen, while celebrating some of most memorable times of the year for youth."
On April 21, MADD and Nationwide will announce new survey data illuminating parents' perspectives on underage drinking at a special event in Washington D.C., which will be broadcasted live on MADD's Facebook page.
"NABCA is honored to join MADD in releasing new topical guides that make it even more convenient for parents to access tangible tools to help keep their teens safe," said Steven Schmidt, Sr. Vice President of Public Policy and Communications. "It takes all adults to keep alcohol out of the hands of youth, including parents, retailers and law enforcement."
PowerTalk 21 is a part of MADD's Power of Parents program that empowers parents of middle school and high school students to have ongoing, intentional conversations about the dangers and consequences of underage drinking. Parents can download free Power of Parents handbooks for parents of middle school and high school students, and sign up for a free 20-minute online workshop at http://www.madd.org/powerofparents.
About Mothers Against Drunk Driving
Founded in 1980 by a mother whose daughter was killed by a drunk driver, Mothers Against Drunk Driving® (MADD) is the nation's largest nonprofit working to end drunk driving, help fight drugged driving, support the victims of these violent crimes and prevent underage drinking. MADD has helped to save more than 340,000 lives, reduce drunk driving deaths by more than 50 percent and promote designating a non-drinking driver. MADD's Campaign to Eliminate Drunk Driving® calls for law enforcement support, ignition interlocks for all offenders and advanced vehicle technology. MADD has provided supportive services to nearly one million drunk and drugged driving victims and survivors at no charge through local victim advocates and the 24-Hour Victim Help Line 1-877-MADD-HELP. Visit http://www.madd.org or call 1-877-ASK-MADD.
About Nationwide®
Nationwide Mutual Insurance Company, based in Columbus, Ohio, is one of the largest and strongest diversified insurance and financial services organizations in the U.S. and is rated A+ by both A.M. Best and Standard & Poor's. The company provides customers a full range of insurance and financial services, including auto insurance, motorcycle, boat, homeowners, pet, life insurance, farm, commercial insurance, annuities, mortgages, mutual funds, pensions, long-term savings plans and specialty health services. For more information, visit http://www.nationwide.com.
Nationwide, the Nationwide mark, and On Your Side are service marks of Nationwide Mutual Insurance Company.
About NABCA
Established in 1938, NABCA is the national association representing the Control State Systems - those jurisdictions that directly control the distribution and sale of beverage alcohol within their borders. Headquartered in Alexandria, VA, NABCA's mission is to support member jurisdictions in their efforts to protect public health and safety and assure responsible and efficient systems for beverage alcohol distribution and sales.
# # #