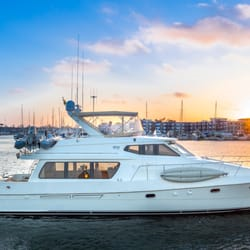 (PRWEB) April 03, 2017
The Duchess, https://www.theduchessyacht.com/ is a beautiful and elegant 63-foot motor yacht, captained by Skip Rutzick and his crew with more than 40 years of experience. Located in Marina del Rey, the Duchess Yacht provides the perfect, all-inclusive experience. From wedding proposals to photo shoots, this charter provides clients with a memorable water experience.
The "Best of Los Angeles Award" community was formed three years ago and consists of over 3,000 professional members living and working in Southern California. It celebrates the best people, places and things in Los Angeles with a slogan "No Ads. No B.S. Only the Best."
"The mission of the community is to celebrate the best of Los Angeles, and allowing its community members to connect with other members who share the highest standards of quality and integrity," said DeRose.
"I have had more than 40 years of experience and am proud to have been a part of many memorable occasions for my clients. When you're on The Duchess, you are treated like royalty. I am honored to accept this award on behalf of my entire crew and their efforts," says Captain, Skip Rutzick.