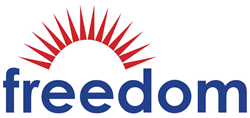 SAN MATEO, Calif. (PRWEB) April 05, 2017
Freedom Financial Network (FFN) – an innovative, financial services company that enables consumers to overcome debt, build wealth and achieve better financial health – is expanding its executive team with four industry veterans.
The new leaders will help guide the rapidly growing fintech company, which is on track to grow by more than 50 percent in 2017. They include:
Chris Capozzi, Chief Financial Officer
Previously, Capozzi served as the chief risk officer of General Electric where he played a key leadership role in executing the company's strategy to restructure GE Capital and divest more than $260 billion of assets. During his 18 years with GE, he also served as the CFO of GE Capital Corporate Finance, the CFO of GE Water, and was a managing director for GE Energy Financial Services, responsible for principal investments in early-stage power generation assets. He holds a Master of Business Administration degree from Columbia University and a Bachelor of Science degree from Boston College.
Megan Hanley, Chief Marketing Officer
Before joining FFN, Hanley served as chief marketing officer for a number of growth-oriented consumer tech businesses, and as general manager of marketing for Microsoft. Prior to Microsoft, she led direct marketing for Esurance, where she helped grow the business from less than $1 million to $1 billion in revenue. She holds a Master of Business Administration degree from Duke University and a Bachelor of Business Administration degree from the University of Notre Dame.
Freddie Huynh, Vice President – Credit Risk Analytics
Freddie was the lead data scientist at FICO (Fair Issac) for 18 years, where he oversaw the development, maintenance and analytic support for FICO scores. He was the technical lead on all product, client support, regulatory and legal issues surrounding the company's flagship product. In the last two years, he served as a principal at End-to-End Analytics, a boutique analytic consulting company. Freddie holds a Master of Science degree from Stanford University, and a Bachelor of Arts degree from Claremont McKenna College.
Jason Yee, Executive Vice President – Corporate Development
Most recently, Yee served as founder and managing partner at Cypress Coast Partners, an investment advisory firm for family office clients. Prior to that, he held the position of chief investment officer for global/international equities at Janus Capital Group, where he was a portfolio manager for more than $5 billion in assets. Yee received a Bachelor of Science degree from Stanford University.
Freedom Financial Network closed 2016 with a strong year of growth, which included a more than 40 percent increase in the amount of consumer debt settled over the previous year. "The momentum in our business is palpable," says Andrew Housser, FFN co-founder and CEO. "As Freedom Financial Network invests in growth, we wanted to bring in an extraordinarily high caliber of executive leaders. Chris, Megan, Freddie and Jason add significantly to the vision and leadership as we help serve our clients, our employees and our industry."
Freedom Financial Network, LLC (http://www.freedomfinancialnetwork.com)
Freedom Financial Network, LLC (FFN) is a family of companies providing innovative solutions that empower people to live healthier financial lives. For people struggling with debt, Freedom Debt Relief offers a custom program to significantly reduce and resolve what they owe more quickly than they could on their own. FreedomPlus tailors personal loans to each borrower with a level of customer service unmatched in the industry. Bills.com helps homeowners better understand their loan options and make smarter mortgage decisions.
Headquartered in San Mateo, Calif., FFN also operates an office in Tempe, Ariz., and employs nearly 1,500 people. The company has been voted one of the best places to work in both the San Francisco Bay area and the Phoenix area for several years.
(end)