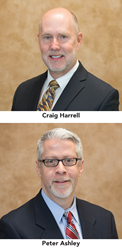 Mishawaka, IN (PRWEB) May 05, 2017
Center for Hospice Care (CHC) and the Hospice Foundation (HF) announce that two new hires have recently joined the organizations. Craig Harrell has joined CHC as the Director of Marketing and Access. Mr. Harrell is charged with promoting CHC services to the community, and with overseeing the admissions process for patients seeking hospice or palliative care. Prior to CHC, Mr. Harrell served for 17 years as Director of Marketing and Community Relations at Hospice of the Calumet Area based in Munster, Indiana.
"We are thrilled to have someone with such deep expertise in marketing and admissions become a part of the leadership team," commented CHC President & CEO Mark M Murray. "Craig has spent years in the hospice field and we know that his passion and commitment to what we do will serve our patients well."
Mr. Harrell earned his bachelor's degree form Purdue University in Business Administration. He and his wife recently relocated to South Bend and are looking forward to becoming a part of the community and enjoying all the area has to offer.
Joining the Hospice Foundation is Peter Ashley, as Director of Communications and Annual Giving. Mr. Ashley has responsibility for overall communications and brand strategy for the Foundation, as well as overseeing its outgoing fundraising efforts. Prior to joining the Foundation, Mr. Ashley served as the Director of Marketing and Communications for the Mendoza College of Business at the University of Notre Dame.
"Having someone with both corporate and not-for-profit communications experience will be a real asset to the organization," noted Mike Wargo, Vice President and COO of the Hospice Foundation. "Peter brings years of communications and marketing experience across a variety of organizations, which will enhance our efforts to reach our donors and stakeholders."
Mr. Ashley holds both bachelor's and master's degrees in communications from the University of North Carolina at Chapel Hill. He lives in Granger with his wife and two children.
About Center for Hospice Care and the Hospice Foundation
Established in 1978, Center for Hospice Care is an independent, community-based, not-for-profit organization, improving the quality of living through hospice, home health, grief counseling, and community education. With offices in South Bend, Plymouth, Elkhart and Mishawaka, Center for Hospice Care serves Elkhart, Fulton, Kosciusko, LaGrange, LaPorte, Marshall, St. Joseph and Starke counties in Northern Indiana.
The Hospice Foundation is committed to supporting the work of CHC through community outreach and education, fundraising activities and other special events. The Foundation helps CHC keep its 37-year promise that no one eligible for hospice services will be turned away, regardless of their ability to pay.