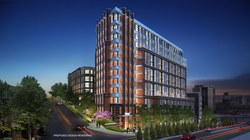 McLean, Virginia (PRWEB) April 05, 2017
Gables Residential has begun construction on Gables Pointe 14, a 370 apartment home community located in the heart of the Rosslyn-Ballston Corridor in Arlington, Virginia. With urban living being a focus, the community is located within walking distance to the Court House & Rosslyn Metro stations and is less than two miles from the Georgetown/West End area in Washington DC.
Gables Pointe 14 will include one of the largest and best amenity packages in the area. Plans include a private outdoor courtyard flanked on two sides by approximately 16,000 square feet of modern amenities. Additionally, the project will include a rooftop recreation area, resident lounge, dining area and pool with panoramic views of downtown DC.
Consisting of a blend of a six-story building at the intersection of 14th Street North and North Rolfe Street and a twelve-story building along North Fairfax Drive, Gables Pointe 14 will offer 370 apartment homes. The mix will include studios and one/two/three bedroom apartment homes with varying floorplans. The floorplans will range from 487 square feet to 1,553 square feet overall. A below-grade garage will also be a part of the building structure.
"The Rosslyn-Ballston corridor is a highly desirable area", shared Jorgen Punda, Regional VP of Investments for Gables Residential. "Our site involved the assemblage of thirteen lots, owned by both private individuals and Arlington County. It was a successful collaboration and we believe it is a great opportunity to deliver a "best in class" apartment home community, with unparalleled amenities within walking distance to the Court House & Rosslyn Metro stations and a variety of dining and entertainment options."
About Gables Residential
Gables Residential is an award-winning, vertically integrated, real estate company and privately held REIT specializing in the development, construction, ownership, acquisition, financing and management of multifamily and mixed-use communities. Gables Residential owns, develops and manages communities in high-growth U.S. markets such as Atlanta, Austin, Boston, Dallas, Denver, Houston, South Florida, Southern California and metropolitan Washington, D.C. Gables also provides third party management services in the New York, Baltimore, Frederick, Tampa, Phoenix, Seattle, Charlotte, Central and North Florida markets.
Gables manages over 31,000 apartment homes and approximately 550,000 square feet of retail space and has received national recognition for excellence in development, construction, management, sales, marketing, learning and development, benefits and corporate accommodations. These achievements reflect the impact of our experienced and dedicated team members, our superior knowledge of the markets served, and our expertise in development and management.