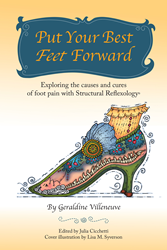 BURLINGTON, Vt. (PRWEB) April 10, 2017
Of the 206 bones in one's body, 52 comprise the feet. While this may seem insignificant to most, the feet functioning properly are vital to one's overall health and well-being. With her new book, reflexology expert Geraldine Villeneuve hopes to spread awareness to the impact poor foot function can have on one's body.
"Put Your Best Feet Forward" shares valuable knowledge pertaining to foot function and how it relates to the overall movement of the body. Villeneuve has presented in-depth knowledge about foot function in layman's terms in hopes of the common man understanding the importance of one's foot. While learning about the importance of taking care of one's feet, Villeneuve also sheds light on potential warning signs of declining foot health.
Villeneuve is well-versed in the realm of foot reflexology, having studied the topic for several decades. She is a licensed massage practitioner and in 1992, Villeneuve founded the Seattle Reflexology and Massage Center, dedicated to the art and science of reflexology. What's more, in 2013, she trademarked the term "Structural Reflexology®," which is a "revolutionary motion to promote healthy feet and bodies by teaching the symbiotic relationship between foot function and reflex activity."
"Most people give very little attention to their feet and have a limited understanding in how they work, even though the feet are the foundation of the entire body," said Villeneuve. "What I've done is crated a map which shows the overlapping muscle attachment sites on reflex areas on the foot. I am hoping this will make a positive change and spread awareness."
"Put Your Best Feet Forward"
By Geraldine Villeneuve
ISBN: 978-1-50437-323-4 (softcover); 978-1-50437-325-8 (hardcover); 978-1-50437-324-1 (electronic)
Available at Balboa Press, Amazon and Barnes & Noble
About the author
Villeneuve has been studying foot reflexology for more than 30 years. She earned her bachelor of science in therapeutic recreation from Lyndon State College in Vermont. She also carries a masters of reflexology certification from Feet First, a reflexology training facility in New York. Villeneuve has been a keynote speaker in many health-related forums including reflexology, chiropractic care and has spoken to the University of Vermont medical students.
###
Review Copies & Interview Requests:
LAVIDGE – Phoenix
Chris Peña
480-998-2600 x 519
cpena(at)lavidge(dot)com
General Inquiries:
LAVIDGE – Phoenix
Bryan Beach
480-998-2600 x 510
bbeach(at)lavidge(dot)com