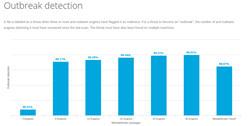 From the results of the Outbreak Report, we can see that detection rates range from 93% using 4 anti-malware engines to almost 99.5% with 30 engines, demonstrating that it's better to use more engines.
(PRWEB) April 04, 2017
OPSWAT today announced the release of its new Outbreak Report, a comprehensive assessment of the efficiency of individual Metadefender anti-malware engine packages for detecting malware outbreaks. The report compares Metadefender Cloud and 6 Metadefender engine packages in their ability to detect malware outbreaks, and in the average number of days an organization might have been vulnerable to a threat for each package.
This new Outbreak Report from OPSWAT provides in-depth analysis of various types of outbreaks, such as ransomware and document-borne malware. The report demonstrates the need for protecting an organization not only with multi-scanning but also with data sanitization (or Content Disarm and Reconstruction/CDR) technology, which can prevent unknown and document-borne threats.
Tomas Hertus, Product Manager for Metadefender Cloud at OPSWAT, said, "For years, we have been telling OPSWAT's customers about the need for 'multi-scanning' with multiple anti-malware engines, which leads to faster detection of malware outbreaks. From the results of the Outbreak Report, we can see that detection rates range from 93% using 4 anti-malware engines to almost 99.5% with 30 engines, demonstrating that it's better to use more engines. Moreover, per the report, organizations deploying 4-engine packages could have been vulnerable for 9 days on average.
"The Outbreak Report also shows why we always recommend that organizations invest in data sanitization (CDR) technology to mitigate the risk of exposure to new threats. Even the most thorough engine packages don't catch 100% of threats, but data sanitization (CDR) removes all exploitable content to eliminate file-borne and document-borne malware altogether."
For the purposes of this report, OPSWAT defined an "outbreak" as a threat that was eventually detected by at least 6 anti-malware engines, and the report focuses on detection by the 6 different Metadefender packages and Metadefender Cloud.
Ali Rezafard, Director of Engineering at OPSWAT, said, "The Outbreak Report visually represents the malware threat landscape and highlights the variability that exists in 'time to detection' among the anti-malware engines. The more engines used, the faster we can detect and prevent outbreaks. However, when it comes to detecting malicious macros in documents, the lag in 'time to detect' makes it necessary to have a multi-layered approach and employ additional safeguards to protect the organization against intrusion attempts. This is where technologies such as data sanitization (CDR) come into play. Some document-borne malware can evade detection by anti-malware engines for a few days, which is enough time to penetrate a targeted organization. Data sanitization (CDR) is able to defuse those threats while maintaining document content integrity."
OPSWAT has promoted the benefits of multi-scanning technology for years. However, the rise of ransomware and similar threats necessitate additional investments in protection. Organizations should enrich their cyber security stack with data sanitization technology from OPSWAT in order to block all unknown threats.
The Metadefender Cloud Outbreak Report is now available to all visitors of Metadefender.com for free. All interested parties should also visit this page for more information about Metadefender Cloud.
About OPSWAT
OPSWAT is a San Francisco-based cyber security software company that provides solutions to secure and manage IT infrastructure. Founded in 2002, OPSWAT has delivered solutions and technologies that protect organizations from threats and secure digital data for over a decade. OPSWAT combines next-generation data sanitization/Content Disarm and Reconstruction technology, its cutting-edge Vulnerability Engine, and multi-scanning with over 30 anti-malware engines in its Metadefender suite of products, and its OESIS Framework endpoint security SDK has helped secure over 200 million endpoints. To learn more about OPSWAT, visit OPSWAT.com.