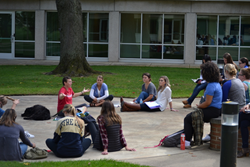 Claremont, Calif. (PRWEB) April 04, 2017
The Drucker Institute at Claremont Graduate University will partner with Saint Mary's College this summer to deliver a young women's leadership-development program for rising high school sophomores, juniors and seniors. Hosted on the Saint Mary's College campus in Notre Dame, Indiana, the week-long High Potentials Leadership Program will share Drucker-based leadership lessons and management tools, as well as insights and opportunities specific to the experience of emerging young leaders.
Lawrence Greenspun, the Drucker Institute's Director of Public Sector Engagement, and Terri Russ, an associate professor of Communications Studies at Saint Mary's will lead the High Potentials Leadership Program, which will help young women discover and develop leadership skills through a combination of classroom learning, applications of lessons learned, field trips, and interactions with female leaders from the public, private and nonprofit sectors.
Applicants are admitted on a first-come, first-serve basis.
Session I: July 9 – 14, 2017
Session II: July 16 – 21, 2017
Applicants can register by clicking here and learn more by visiting the Saint Mary's website here.
For more information, contact Lawrence Greenspun at Lawrence@Drucker.Institute.
About the Drucker Institute
The Drucker Institute is a social enterprise based at Claremont Graduate University. Our mission is strengthening organizations to strengthen society. Our programming—for the corporate, nonprofit and public sectors—is built on a foundation of YESTERDAY/TODAY/MONDAY*. "Yesterday" refers to the fact that our work is grounded in Peter Drucker's timeless wisdom. "Today" speaks to the urgency that we know organizational leaders feel to successfully meet their greatest challenges and opportunities. And "Monday" points to our proven ability to help executives move quickly from ideas to action to results, just as Drucker urged his own consulting clients: "Don't tell me you had a wonderful meeting with me. Tell me what you're going to do on Monday that's different." For more, visit http://www.drucker.institute.
About Saint Mary's College
Saint Mary's College, located in Notre Dame, Indiana, is a four-year, Catholic, residential, women's liberal arts college offering five bachelor's degrees and more than 30 major areas of study. It ranks among the top 100 Best National Liberal Arts Colleges for 2016 published by U.S. News & World Report.