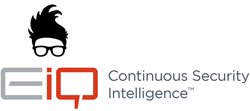 "The research results show that companies are not just underfunding cybersecurity -- they are also understaffed," said Vijay Basani, Founder and CEO, EiQ Networks.
Boston, Massachusetts (PRWEB) April 04, 2017
EiQ Networks, a pioneer in hybrid security as a service, today announced results from a survey conducted in the first quarter of 2017. More than 150 IT security professionals at small to medium-sized businesses responded to the survey, including security engineers, IT security managers, security officers, and IT administrators, among others.
The survey focused on cybersecurity technology investment, current ability to thwart attacks, and security priorities. The survey revealed, among other issues, a significant drop in respondents' confidence in the security technologies they've deployed to protect their organizations from data breaches and asset theft. As compared with EiQ's 2015 cybersecurity survey, when 26.8 percent of IT security professionals expressed confidence in their security posture, in 2017 less than 15 percent report confidence that currently deployed technologies will be successful in detecting and responding to cyber attacks.
Other findings include:

75 percent of respondents said they employ 0-2 security professionals
74.6 percent are concerned about protecting customer data
67.3 percent are concerned about protecting personally identifiable identification (PII)
56.2 percent are concerned about protecting employee data
47.7 percent review cybersecurity at least quarterly with executive management and the Board of Directors
"Our latest survey on the state of the cybersecurity landscape is very revealing. One of the most striking results is how little SMEs are spending on cybersecurity as compared to the overall IT budget – despite the very high risks they face daily from ransomware, phishing, and zero-day attacks, to name just a few," said Vijay Basani, Founder and CEO, EiQ Networks. "The results also show that companies are not just underfunding cybersecurity, they are also understaffed. Without the IT security resources and expertise necessary to continually monitor, detect, and respond to security incidents, SMEs are simply exposing themselves to loss of revenue, brand equity, IP, and customer data on a daily basis."
To download the infographic with complete results from EiQ's 2017 Cybersecurity Survey, please go to: https://www.eiqnetworks.com/resources/small-to-medium-enterprise-security-professionals
More About SOCVue
EiQ delivers comprehensive proactive and reactive security monitoring program to protect against modern-day cyber threats while meeting regulatory mandates. EiQ's SOCVue® services combine the best people, process, and technology for an enterprise-class IT security program:

EiQ's SOCVue Security Monitoring service gives customers visibility and control over their IT environment with around-the-clock threat detection, analysis and notification, proactive remediation guidance, and compliance auditing.

EiQ's SOCVue Vulnerability Management service uses Qualys technology to mitigate risk with unlimited scans, analysis, and remediation guidance – so customers can focus on what matters most: their core business.

EiQ's SOCVue Patch Management service identifies, analyzes, and reports on missing matches on operating systems and third-party applications while providing the ability to schedule, approve, and remotely deploy and validate patches with a simple click of a mouse.
SOCVue gives customers the flexibility and cost savings of a security-as-a-service offering, and also provides a world-class team of security and technology experts to manage the technology around the clock and help implement cybersecurity best practices. SOCVue enables organizations to:

Reduce the cost of purchasing and maintaining complex IT security solutions
Supplement existing IT staff with cybersecurity experts from EiQ's 24x7x365 Security Operations Center (SOC)
Improve their IT security posture through proactive security monitoring and vulnerability assessment
Help meet compliance requirements such as PCI DSS, HIPAA, FFIEC, GLBA, and more
About EiQ Networks
EiQ, a pioneer in hybrid security as a service, is transforming how mid-market organizations build enterprise-class security programs. Acting as an extension of our customers' IT teams, EiQ provides continuous security operations based on best-of-breed technology at a fraction of the cost of alternative solutions. EiQ is a trusted advisor to organizations that need to improve their IT security and compliance posture and protect against cyber threats and vulnerabilities. For more information, visit: https://www.eiqnetworks.com.
Legal Disclaimer
© 2016 EiQ Networks, Inc. All Rights Reserved. EiQ, the EiQ logo, the SOCVue logo, SecureVue, ThreatVue, SOCVue, ComplianceVue, ForensicVue, and Continuous Security Intelligence are trademarks or registered trademarks of EiQ Networks, Inc. in the US and/or other countries. All other product names and/or slogans mentioned herein may be trademarks or registered trademarks of their respective companies. All information presented here is subject to change and intended for general information.