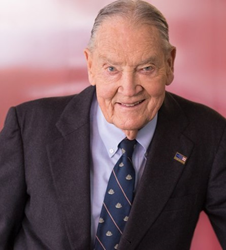 This is one of those rare opportunities to sit down with a legend in the world of capital markets, someone who has influenced the investment world more than any other single individual," said Tom Gardner, co-founder and CEO of The Motley Fool
San Francisco, California (PRWEB) April 04, 2017
Conscious Capitalism, Inc., the nonprofit organization dedicated to elevating humanity through business, announced today the addition of an intimate sit-down session at its annual spring conference with the man credited by many as having democratized investing by creating the first index fund available to individual investors, founder and former CEO of The Vanguard Group, John Clifton "Jack" Bogle.
At Conscious Capitalism 2017 in Philadelphia (April 18-20), Bogle, will be joined on stage by co-founder and CEO of The Motley Fool, Tom Gardner, for an in-depth, candid discussion on the role socially responsible investing plays in advancing the Conscious Capitalism movement.
"This is one of those rare opportunities to sit down with a legend in the world of capital markets, someone who has influenced the investment world more than any other single individual," said Gardner. "I am very much looking forward to gleaning wisdom and insights from Jack's storied career toward further intertwining the objectives of impact investing with the practice of Conscious Capitalism."
Conscious Capitalism's annual spring conference is a three-day event designed for CEOs and their executive leadership teams, entrepreneurs, the consultants and coaches who support them, and anyone interested in learning more about Conscious Capitalism. The conference agenda combines riveting keynotes with more than twenty 75-minute practicums delivering practical tools and best-practices to help attendees apply Conscious Capitalism principles to everyday decisions.
In addition to the socially responsible investing focused sit-down with Bogle and Gardner, Conscious Capitalism 2017 will feature presentations by REI CEO, Jerry Stritzke; Greyston Bakery CEO, Mike Brady; Great Place to Work CEO, Michael C. Bush; Dansko CEO, Mandy Cabot; Babson College professor and co-author of "Conscious Capitalism," Raj Sisodia; author of "Trust Factor: The Science of Creating High Performance Companies," Paul Zak; Back to the Roots co-founders, Alejandro Velez and Nikhil Arora; author of "The Freak Factor: Discovering Uniqueness by Flaunting Weakness," David Rendall, and others.
Conscious Capitalism 2017 will be held at the Sheraton Philadelphia Downtown, April 18-20. To register, please visit ConsciousCapitalism.org/cc2017.
About Conscious Capitalism
Conscious Capitalism, Inc. is a 501c3 nonprofit organization dedicated to elevating humanity through business. The practice of Conscious Capitalism includes implementing the tenets of Higher Purpose, Stakeholder Orientation, Conscious Culture and Conscious Leadership. The organization produces transformational events, workshops, publications and academic research, and supports a growing network of Conscious Capitalism Chapters around the world which serve as communities of inquiry for business leaders, entrepreneurs, coaches, consultants and others interested in advancing the Conscious Capitalism movement. Founded in 2010, Conscious Capitalism, Inc. is headquartered in San Francisco.