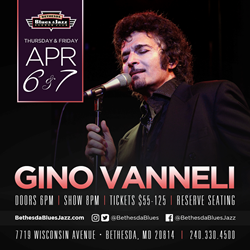 Washington, DC (PRWEB) April 05, 2017
TWO NIGHTS!! This April 6th and 7th join Bethesda Blues & Jazz Supper Club as we welcome the smooth sounds of Gino Vannelli live in concert. Tickets are available online starting at $55.00 - $125.00. Doors open at 6:00pm and show time is 8:00pm. For tickets or general information, please visit http://www.bethesdabluesjazz.com or call 240.330.4500.
Born in Montreal, Canadian singer/song-writer Gino Vanelli has made his presence known worldwide as one of the greatest voices in popular music for over 4 decades. His early progressive fusion of soft rock, pop, jazz and R&B with the help of his brother Joe, created a new unique, pioneering sound using drums and synthesizers during the 70s that had not been heard prior. Known for breaking barriers across genres, Gino was the 2nd white artist to ever perform on Soul Train and has always been widely lauded for his live performances by a dedicated, diverse fan-base. Some of his biggest hits include "People Gotta Move", "Brother to Brother", "Love of My Life" and his most popular 1978 smash hit single "I Just Wanna Stop", which was GRAMMY-Nominated and went platinum in both the US and Canada. Gino continues to actively tour worldwide to sold out audiences.
Bethesda Blues and Jazz, housed in the historic 500-seat Bethesda Theater, is an intimate concert hall offering the best in live entertainment, food and drinks in the DMV. The venue has featured over 900 live acts during the last four years covering various genres including Jazz, Country, R&B, Blues, Comedy and an array of private events. Join us for a premier supper club experience to see your favorite musicians in an elegant and acoustically superb setting with access to great free parking. Come eat, drink and vibe at Bethesda Blues & Jazz. Visit us online at http://BethesdaBluesJazz.com
For media inquiries and partnerships please contact:
Anshia B. Crooms, Marketing & Promotions Director
anshia(at)bethesdabluesjazz(dot)com or call (240) 330-3500 x. 106