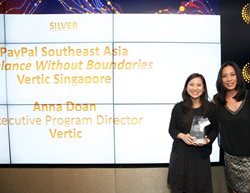 This award is a great justification of our Entangled Marketing methodology, driving tangible business value for our clients from the establishing of long-term customer relationships through the provision of ongoing value-add content to their lives
New York, New York (PRWEB) April 05, 2017
Vertic and PayPal are celebrating their win for the "Freelance Without Boundaries/#PayPalFreelancer" content-marketing program, which received a Silver award at the 9th Annual Internationalist Awards for Innovation in Media.
The award, organized by The Internationalist, celebrates the most innovative marketing campaigns from around the world. Winning entries were evaluated based on innovative use of media, breakthrough communications thinking, demonstrating cross-cultural understanding of marketing issues, and delivering results. The champions from 2017 were chosen by a jury made up of The Internationalist staff and marketing professionals representing Europe, North America and Asia Pacific.
Vertic, on behalf of their client PayPal, submitted a campaign targeting freelancers in the Southeast Asia region. The campaign, titled "Freelance Without Boundaries/#PayPalFreelancer" saw the team building an online hub that enables freelancers to upgrade their skills to grow their businesses. The site contains articles, as well as videos with tips from experts on various topics including how freelancers can build their own personal brand through marketing their services, improve their negotiation skills and manage their finances.
Commenting on the award, Rahul Shinghal, General Manager for PayPal Southeast Asia, said, "It's been an important priority for PayPal to provide support to the freelance community in Southeast Asia and we're honored that the Freelance Without Boundaries initiative, with the centralized content hub supporting freelancing career growth has been recognized for having created a high level of value to freelancers in this region."
Mads Petersen, co-founder of Vertic, added, "This award is a great justification of our Entangled Marketing methodology, driving tangible business value for our clients from the establishing of long-term customer relationships through the provision of ongoing value-add content to their lives. With Freelance Without Boundaries, we have developed a platform that not only supports marketing of the brand, raising its profile within a previously unaware audience, but one that also provides definitive meaningfulness to its end audience."
About the Awards
The Internationalist Awards for Innovation in Media are a response to voices in the industry calling for international examples of best practices as media takes the leadership role in the complex world of marketing strategy. Innovation is essential to today's effective media thinking in a world where messages are becoming instantly global.
About Vertic
Vertic is a global advertising agency. Since our launch in 2002, we've been fiercely dedicated to developing digital solutions that help our Fortune 500 clients build their brands, provide superior customer experiences and generate tangible business results. Our approach is interdisciplinary, combining strategy, storytelling, creativity and interactive design. We're independently owned with offices in New York, Seattle, Copenhagen, and Singapore. Visit us at http://www.vertic.com