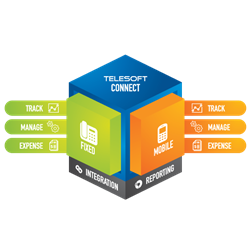 A strong technology ecosystem is vital to the success of all enterprises today, both in terms of cost and capability.
PHOENIX, AZ (PRWEB) April 05, 2017
Telesoft, a trusted leader in technology expense and mobility management software and solutions, will highlight ConnectTM, a modular suite of enterprise technology management solutions, at the AOTMP's Fixed and Mobile Telecom Management Conference, April 9-13, 2017 in Orlando, FL.
Telesoft Connect is a single, unified platform designed to deliver end-to-end lifecycle support and solve the most complex technology management challenges within managed mobility services (MMS), telecom expense management (TEM) and IT expense management (ITEM) programs.
"A strong technology ecosystem is vital to the success of all enterprises today, both in terms of cost and capability," said Rob Stratton, Telesoft's Director of Marketing and Product Development. "AOTMP is always a great conference for us. We look forward to sharing how we empower enterprises with the ability to make smarter decisions and improve their technology landscape to stay competitive in these dynamic times."
Telesoft will be exhibiting in the Oceans Ballroom of Renaissance Orlando at SeaWorld. Email info(at)telesoft.com to set up an exclusive live demo or meeting in advance of the Conference. If you are unable to attend the Conference, you may request a Telesoft Connect Demo ot Telesoft.com
About Telesoft
Telesoft is a leading provider of technology expense and mobility management solutions to global enterprises. Telesoft Connect—an industry leading cloud-based software platform—enables customer organizations to drive savings of up to 20-30% and provides a versatile tool set for on-going management through a single, innovative interface. Enterprise customers utilize Connect to manage technology expenses across mobile, cloud and IP / fixed footprints as well as usage, IT inventory, expense validation, cost reporting and financial system integration. Today, Telesoft serves over 200 enterprise and government clients representing billions of dollars of spend in the most complex, challenging and advanced enterprise environments in the world. The company is headquartered in Phoenix, Arizona and provides solutions to customers around the world. Investors include Sumeru Equity Partners, a Silicon Valley-based spin off of Silver Lake. For more information about Telesoft, visit http://www.telesoft.com.
Telesoft provides Enterprise Technology Management solutions that control usage, track inventory, and validate expenses to provide accountability and business intelligence across the organization. Leveraging 35-years of experience as a pioneer in the technology management industry, Telesoft's customer-focused delivery model serves more than 200 clients on a global scale. Find out more at http://www.telesoft.com.