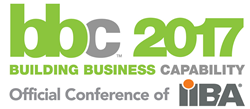 Orlando, Florida (PRWEB) April 04, 2017
Rising Media, Inc., a global events producer specializing in business and technology-related conferences and exhibitions; the International Institute of Business Analysis (IIBA), a community of over 20,000 of the world's leading Business Analysts; and Business Rule Solutions, a leading consultancy, announced Randy Pennington as keynote speaker for Building Business Capability (BBC) at Loews Royal Pacific Resort in Orlando, Florida, from November 6-10, 2017.
"Transformation: Your New Business Reality" is the theme for BBC 2017. As a business performance veteran, award-winning author, and an expert in helping organizations deliver positive results in a world of accelerating change, Randy Pennington is well-placed to set the scene for BBC 2017's focus. Most of his professional life, passion, and energy have been devoted to helping leaders and organizations deliver results, build strong corporate cultures, and make change work.
Launched in 2009, this will be the 9th Building Business Capability event. Bringing together professionals concerned with building more capable organizations through the disciplines of business agility, business analysis, business architecture, business decisions, business process management, business rules, business strategy and transformation, BBC explores the latest advances in thinking and techniques. 130 practical sessions and 36 tutorials are complemented by forward-thinking keynotes.
Over 1500 professionals including Business Architects, Business Analysts, Business Decision Managers, Business Process Managers, and Business Rules experts will attend the event for five days of education including workshops, conference sessions, interactive roundtables, professional "jams," spotlight sessions, exhibits, and special events, all aimed at facilitating the exchange of relevant knowledge, training and industry updates, as well as critical connection amongst the inter-disciplinary professionals and experts.
Supporting the event theme of transformation are dedicated tracks including Designing the Adaptable Business, Customer Experience, Strategy Formulation, The Evolving Analysis and Design Landscape, High Impact Techniques, Aligning with Project Management, Leadership Skills, Leveraging Technology, Cognitive Systems, Organizational Business Analysis Capability, and Fast Forward, a futures track. An overview of the conference themes can be found online at http://www.buildingbusinesscapability.com/2017/themes/#themes.
In addition to the conference program, Building Business Capability's exhibit hall will play host to the industry's most innovative companies, showcasing the latest services and tools, including Gold Sponsors: Business Rule Solutions, CAPSICUM, iGrafx, RuleArts, and Signavio; Silver Sponsors: QualiWare and IIL, plus many more. Companies interested in becoming a sponsor should visit http://www.buildingbusinesscapability.com/sponsorship.
About Rising Media
Rising Media is a global events and media producer excelling in Internet and technology-related events and content. Events include Inside 3D Printing, RoboUniverse, Virtual Reality Summit, Data Driven Business, Building Business Capability, Predictive Analytics World, Text Analytics World, eMetrics Summit, Conversion Conference, AllFacebook Marketing Conference, Search Marketing Expo, Affiliate Management Days, Influencer Marketing Days, Future of Immersive Leisure, Global Online Classifieds Summit, and Web Effectiveness Conference in the USA, United Kingdom, Germany, France, Italy, India, China, Korea, Singapore, Australia, Brazil.
For more information, please visit http://www.risingmedia.com.
About IIBA
International Institute of Business Analysis™ (IIBA®) is a professional association dedicated to helping the business analysis community achieve better business outcomes. Through a global network, IIBA® connects more than 29,000 Members and more than 300 Corporate Members and 121 Chapters. As the voice of the business analysis community, IIBA maintains international standards of practice, certifications, professional development and networking opportunities through a community of BA professionals, organizations and strategic alliances. For more information visit http://www.iiba.org.
About Business Rule Solutions
BRS is a consulting firm that helps leaders in industry and government design smart, adaptable operations by guiding them in engineering rule-based business solutions. For more information, please visit http://www.brsolutions.com.