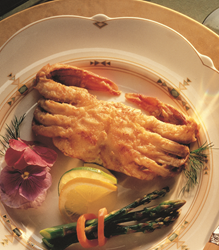 "The season is expected to be in full swing in the next two weeks as the waters warm," said Chris
(PRWEB) April 04, 2017
In 1917, Handy started processing soft shell crabs from the Chesapeake Bay in Crisfield, Maryland. Now a century later, Handy is pleased to announce the arrival of their 100th domestic soft shell crab season. "The season is expected to be in full swing in the next two weeks as the waters warm," said Chris Owens, Handy's Manager of Fresh Sales.
Soft shell crabs are one of America's favorite seafood delicacies and fresh ones are available through September. Offering adventurous, seasonal food continues to be a hot restaurant trend, and soft shell crabs satisfy those requirements. Chefs love styling unique soft shell crabs dishes like Soft Shell Crab Eggs Benedict and Soft Shell Crab Bloody Mary.
For foodservice order inquiries, contact Chris Owens directly at 410-968-1772 or cowens(at)handyseafood.com.