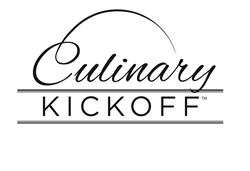 Louisville, KY (PRWEB) April 05, 2017
The Inaugural Culinary Kickoff will be held at the Muhammad Ali Center at 144 North Sixth Street in Louisville on Thursday, May 4th from 6pm – 2am. Celebrity chefs Todd English, Beau MacMillan, and Damaris Phillips will prepare a four-course meal for an intimate group of food and wine enthusiasts. Wine pairings will be provided by elite vintners AldenAlii, Tuck Beckstoffer, Charles Woodson, and The Withers. Event proceeds will benefit the Muhammad Ali Center in Louisville, Kentucky, a multicultural center with an award-winning museum dedicated to the life and legacy of Muhammad Ali.
"Each year, the Kentucky Derby is among Louisville's most celebrated events, attracting people from around the world who come to town for a mix of sport, food, and fashion," said Lonnie Ali, co-founder of the Muhammad Ali Center. "So it made perfect sense to host the Inaugural Culinary Kickoff at the Ali Center to add another dimension of greatness to the city's already attractive menu of events surrounding the Derby. We are excited about this culinary experience and are grateful to the organizers for their support of the Muhammad Ali Center."
Located in the heart of the action in Downtown Louisville, this special dinner will be preceded by a cocktail party, and will conclude with a live musical performance.
Williams Sonoma, in partnership with Visa, will be the exclusive gifting partner for the extraordinary event, providing a limited edition flask that will be paired with a Woodford Reserve Commemorative Derby bottle. Woodford Reserve is the exclusive bourbon partner for the event. Leading men's lifestyle magazine, Esquire, will serve as the official media partner of this inaugural event.
The evening will conclude with a special live music performance inspired by music partner, Take Me To The River (TMTTR) Educational Initiative, whose mission is to bring history to life and create a deeper understanding and relevance of civil rights, music history, and cross-generational collaboration; to further appreciation of American culture that has inspired and influenced the world's popular music; to promote tolerance and respect for all people and cultures; and to ignite excitement about history, music and musical exploration.
"The Ali Center's work is right in sync with ours. TMTTR is dedicated to building confidence in the power of positive expression. Together we can break the barriers of race, gender, and generations to build a strong and lasting foundation of true community," says Martin Shore, Director of TMTTR.
A limited number of tickets are on sale at http://www.derby.culinarykickoff.com for this exclusive May 4 event. Inaugural Culinary Kickoff is a new event in a series of successful Super Bowl Culinary Kickoff events, which benefit the Culinary Institute of America. The next Culinary Kickoff will take place in Minneapolis during Super Bowl LII on Thursday, February 1, 2018. Event details will be posted at http://www.sb.culinarykickoff.com.
ABOUT THE MUHAMMAD ALI CENTER
The Muhammad Ali Center, a 501(c)(3) corporation, was co-founded by Muhammad Ali and his wife Lonnie in their hometown of Louisville, Kentucky. The international cultural center promotes the six core principles of Muhammad Ali (Confidence, Conviction, Dedication, Giving, Respect, and Spirituality) in ways that inspire personal and global greatness and provides programming and events around the focus areas of education, gender equity, and global citizenship. Its newest initiative, Generation Ali, fosters a new generation of leaders to contribute positively to their communities and to change the world for the better. The Center's headquarters also contains an award-winning museum experience. For more information, please visit http://www.alicenter.org
ABOUT ESQUIRE
Esquire creates engaging conversations that drive the culture, with a unique mix of intellectual showmanship, hilarity, impeccable style, visual punch and extraordinary writing. Esquire is the most-honored monthly magazine in America, with 26 National Magazine Awards, including one for its iPad app, and 88 nominations. In its digital expressions, Esquire.com has an audience of 11.3 million (comScore, Sept. 2016), and a social media following of 10 million. In addition to its U.S. flagship, Esquire publishes 26 editions around the world. Follow Esquire on Instagram and Twitter at @Esquire. Esquire is published by Hearst Magazines, a unit of Hearst, one of the nation's largest diversified media and information companies. Hearst Magazines' print and digital assets collectively reach more than 128 million readers and site visitors each month, or 53 percent of all adults in the U.S.; nearly two-thirds of all women and 69 percent of all millennial women (comScore/MRI 9-16/S16). http://www.esquire.com
Media Contacts:
Culinary Kickoff
Lindsay Ross
lindsayr(at)vegagroup(dot)com
PH: 504-258-2475
Muhammad Ali Center
Jeanie Kahnke
JKahnke(at)alicenter(dot)org
PH: 502-992-5301