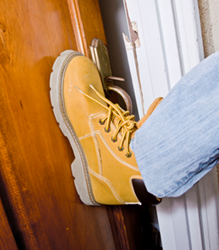 People don't realize that unless they reinforce their doors, they might as well be leaving them open.
(PRWEB) April 05, 2017
Three teenagers were shot and killed in a small Oklahoma town last week. The teens broke through a door, attempting to rob a house that they thought was empty. It is reported that the son of the homeowner, who happened to be at home, confronted the teens and opened fire with a semi-automatic rifle. All three of the would-be burglars were killed. Police later apprehended the get-away driver. The Wagoner County Sheriff's Office has stated that the deaths appear to be the result of self-defense.
In the eyes of the law, and many who have watched this case unfold, this killing was totally justified. However, three mothers will bury their children this week and a 23-year-old will live the rest of his life trying to deal with the fact that he killed three kids. "Everyone wants to believe that they would love to play the hero and shoot an intruder that breaks into their home," said security expert and Armor Concepts CEO Alan Young. "The sad fact is that killing someone, whether it is justified or not, will change your life forever."
Young points out that while it is easy to justify why a thief may deserve this punishment, the consequences for the shooter are often more severe than most consider. "Reportedly, the first question that the shooter asked was 'are they going to be ok?' While it is natural to want to defend your home, living with the fact that you killed three teenagers will not be easy," said Mr. Young.
Perhaps the worst part of this tragedy is that situations like this are often avoidable. "In many cases, it takes intruders about 10 seconds to enter a home. In that little bit of time, the homeowner must find their gun and then make a decision to shoot. There is no warning. There was no time to think," said Mr. Young. "I believe that he did what many people would have done in a similar situation, and I believe that he was probably justified but that doesn't change the fact that three kids are dead." Young points out that things might have ended differently had the intruders had to spend more time entering the home. "If the intruders had a more difficult time getting into the home, they might have moved on, the resident could have warned them or at least he would have had time to think through alternatives. Bad things often happen when individuals have no time to react. Without time to think, things can escalate very quickly."
The shocking nature of this incident illuminates a core issue with home security. "Most homeowners have a sense of false security, especially gun owners. A home alarm does nothing but alert you that someone is already inside of your home. A gun is meant to kill someone that has already entered your home. No one really thinks about keeping intruders out," said Mr. Young. "People don't realize that unless they reinforce their doors, they might as well be leaving them open. A few simple steps will require an intruder to take 20 to 30 minutes to enter versus 10 seconds. That could be the difference between someone getting in or going somewhere else." According to the FBI, more than 85% of break-ins happen through a door. Soft wooden frames make doors easy to enter with a swift kick or a strong shoulder. Doors containing glass are even easier to enter as intruders can quickly break a pain and unlock the door from the inside.
Finally, Mr. Young said that it is important to note that this is not a question of gun rights or whether homeowners should choose between securing their homes or owning guns. "I believe that people have the right to protect themselves and I believe in the Second Amendment. I also believe that this case highlights the difference between the reality of confronting a home intruder and the perceived bravado that many people like to believe comes from owning a gun. Whether you are justified or not, it is always better to avoid a confrontation where you or the intruder could end up getting hurt or killed." Young added, "While this incident ended with the perpetrators being shot, in many cases these situations end very badly for the resident. The most important thing is to give yourself time to make a decision."
For economical protection, Mr. Young recommends that homeowners install grade 1 deadbolts on all of their doors. These can be purchased at most home improvement stores for under $40. Mr. Young also recommends that people reinforce their doors with a product like Door Armor, a do-it-yourself solution that is guaranteed to stop kick-ins and can be purchased at Lowe's, Menards or online at http://armorconcepts.com/ for around $70. Mr. Young also recommends window film to help prevent thieves from easily breaking glass. "Security doesn't need to cost a lot. It just needs to work. However, false security can be a very painful and expensive lesson," Young concluded.