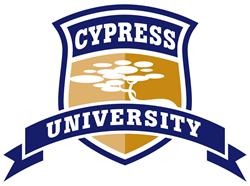 As self-funding grows, this conference continues to keep people connected to what's happening in the industry and how plan savings and success can be achieved.
Las Vegas, NV (PRWEB) April 10, 2017
In session at SLS Las Vegas today, Cypress University is back for the sixth consecutive year with a comprehensive curriculum to provide real-world strategies for controlling the costs of employee benefits via self-funding and the flexibility these plans offer.
The conference is hosted by Cypress Benefit Administrators April 10-11, and will kick off with a highly anticipated keynote presentation by Andy Core – an award-winning author, speaker and wellness expert. Core will address the "why workplace wellness?" question so many employers are asking today, and he will share the latest trends and future direction of these programs along with ways to measure value.
"Workplace wellness continues to be a hot topic in the employee benefits realm, and we are excited to welcome Andy Core to offer such an educated, in-depth perspective on where it's headed," said Tom Doney, president and CEO of Cypress Benefit Administrators.
More than 260 participants are registered to attend Cypress University over the next two days to learn, present and share information about containing the costs of health plans. Participants include employer-clients, brokers, benefit partners and industry thought leaders.
A sampling of the employee benefits topics to be covered includes:

Self-funding and fiduciary duty
Chronic care and medication management
Innovations in care management
Captive insurance options
Leveraging provider cost transparency
Psychological health at the workplace
Out-of-network access/national providers
Telemedicine advances
Cypress University features a mix of new and returning speakers and breaks the agenda items into a variety of formats – from panels and full presentations to informal "table talks" and Q&As – to encourage opportunities for education and interaction.
Of special interest again this year is the Cypress Client Panel, which will feature real-life stories from clients who have had success in controlling costs and navigating benefit-related challenges. Cypress University will also include "Critical Updates" to fill participants in on the current status of key topics covered at last year's event, such as ACA reporting, medical tourism, cancer care and chronic kidney disease management.
"As self-funding grows, this conference continues to keep people connected to what's happening in the industry and how plan savings and success can be achieved," Doney said. "We look forward to providing another great learning experience!"
About Cypress Benefit Administrators
A privately held company headquartered in Appleton, Wis., Cypress Benefit Administrators has been pioneering the way toward cost containment in self-funded health benefits since 2000. The third party administrator (TPA) is the country's first to bring claims administration, consumer driven health plans and proven cost control measures together into one package for companies ranging from 50 employees to thousands of employees. It serves employer-clients across the U.S. with additional locations in Portland, Ore., Omaha, Neb. and Denver, Col. For more information on Cypress and its customized employee benefits, visit http://www.cypressbenefit.com.