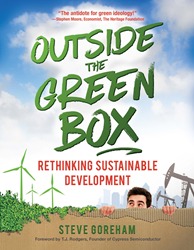 Today's society lives in the grip of a madness—the belief that humans are causing dangerous climate change
Calgary, Alberta, Canada (PRWEB) April 05, 2017
Friends of Science Society says a new study entitled "Burden of Proof" published in Elsevier's Journal of Renewable and Sustainable Energy Reviews (accepted March 23, 2017) shows that the recent David Suzuki Foundation campaign "Power Up Canada with Renewable Energy" demands for multi-billion dollar renewable energy investments and an end to fossil fuels are not supported by empirical evidence.
"Burden of Proof" examines 24 "low-carbon" studies that promote 100% renewable energy electrical grid operations, as referenced in the LEAP Manifesto, and finds that no empirical evidence supports these claims.  David Suzuki Foundation is an initiating organization of LEAP.
According to the Energy Matters blog posting "Electricity and energy in the G-20" of Sept. 08, 2016, Canada already has the second "cleanest" power grid in the world; other G-20 nations will not be able to reach Paris targets.
"The tax-subsidized David Suzuki Foundation is peddling climate dogma, pure and simple," says Michelle Stirling, Communications Manager for Friends of Science Society.
Friends of Science Society invites the public to attend their May 9th, 2017 annual event in Calgary AB entitled "Climate Dogma Exposed" wherein guest speaker, author Steve Goreham will debunk myths about 'green' energy and "climatism." 
Goreham describes the current climate hype as "Today's society lives in the grip of a madness—the belief that humans are causing dangerous climate change." Goreham's new book "Outside the Green Box: Rethinking Sustainable Development" dissects the mythology that the billions spent on 'sustainability' by corporations will 'save the planet' – in fact the funds would be better spent elsewhere.  Goreham will have some of his books on sale at the event.
Along with Goreham, Ottawa energy policy consultant Robert Lyman will pose the question "Can Canada Survive Climate Change Policy?" an issue broadly addressed in an earlier report for Friends of Science.
"Climate change dogma is driving up tensions between east and west over blocked pipelines, "green" activists in British Columbia want to block oil and gas pipeline construction, but everything – including wind and solar farms – is made from oil, gas and coal," says Stirling, referring to a Feb. 29, 2016 article in IEEE Spectrum entitled "To Get Wind Power you need Oil."
According to Lyman's assessment, if the 2°Celsius greenhouse gas reduction targets were met, Canada's economy would be reduced to that of Chad, an impoverished nation with a GDP per capita less than 2% of Canada.
"Environmental charities are subsidized by tax-payers and should be required to provide empirical evidence supporting their claims," says Stirling.  "The Suzuki campaign says fossil fuels are subsidized in Canada, but the opposite is true. Oil and gas exploration underpin the Canadian economy as we describe in our report "Keep Canada in the Black."
"Climate Dogma Exposed" information and a link to ticketing is on Friends of Science Society's webpage.
About
Friends of Science Society has spent over 14 years reviewing a broad spectrum of literature on climate change and have concluded the sun is the main driver of climate change, not carbon dioxide (CO2). Friends of Science is made up of a growing group of earth, atmospheric and solar scientists, engineers, and citizens. Membership is open to the public.
Friends of Science Society
P.O. Box 23167, Mission P.O.
Calgary, Alberta
Canada T2S 3B1
Toll-free Telephone: 1-888-789-9597
Web: friendsofscience.org
E-mail: contact(at)friendsofscience(dot)org
Web: climatechange101.ca