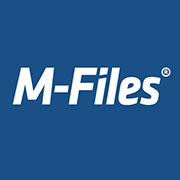 The essence of GDPR is to ensure that explicit policies and procedures for handling personal information are in place, and M-Files is ideally suited to help organizations meet this requirement,
Dallas, TX (PRWEB) April 11, 2017
M-Files Corporation, a provider of solutions that dramatically improve how businesses manage documents and other information, today announced offerings that help companies better protect their customers' personal data and adhere to GDPR requirements.
The objective of the European Union (EU) General Data Protection Regulation (GDPR) is to simplify and harmonize data privacy laws across Europe, and give EU citizens control of their Personally Identifiable Information (PII). There are substantial non-compliance fines -- up to €20M or 4 percent of global annual turnover based on the preceding financial year, whichever is greater. While GDPR is an EU regulation, the mandate affects any organization that handles the PII of an EU-based individual, whether or not the organization is based in the EU. GDPR goes into effect in May 2018 and many organizations are taking steps now to ensure they are prepared to adhere to the new regulation.
"The essence of GDPR is to ensure that explicit policies and procedures for handling personal information are in place, and M-Files is ideally suited to help organizations meet this requirement," said Mika Javanainen, vice president of product management at M-Files Corporation. "It's also mandatory to ensure that employees are trained on, and in fact adhering to, those procedures. M-Files automates and simplifies this process for businesses, while also making it simple and quick to provide supporting evidence to GDPR auditors."
M-Files is a highly-scalable and flexible information management solution that enables organizations to better manage personal data and PII by controlling and tracking such information, including that handled by third-party "data processors." With M-Files, organizations can easily implement and enforce policies and processes associated with handling personal information, as well as ensure that employees have completed the associated necessary training. A critical aspect of GDPR compliance is the ability to quickly demonstrate the steps taken to meet GDPR requirements. M-Files makes this fast and easy with powerful audit and reporting capabilities that allow companies to efficiently produce the documentation and other information necessary to respond to auditors' requests.
"Personal information often resides in a host of different systems, network folders and other information silos, which makes it even more challenging for companies to control and protect it," added Javanainen. "M-Files integrates with existing systems and repositories in a manner where information can remain in place, in its original location, without disturbing existing systems and processes. This enables companies to continue to leverage their legacy systems while adding the powerful information management functionality needed to protect personal information and adhere to GDPR requirements."
For more information about addressing GDPR requirements with M-Files, click here.
About M-Files Corporation
M-Files enterprise content management (ECM) solutions eliminate information silos and provide quick and easy access to the right content from any core business system and device. M-Files achieves higher levels of user adoption resulting in faster ROI with a uniquely intuitive approach to ECM that is based on managing information by "what" it is versus "where" it's stored. With flexible on-premises, cloud and hybrid deployments options, M-Files places the power of ECM in the hands of the business user and reduces demands on IT by enabling those closest to the business need to access and control content based on their requirements. Thousands of organizations in over 100 countries use the M-Files EIM system as a single platform for managing front office and back office business operations, which improves productivity and quality while ensuring compliance with industry regulations and standards, including for companies such as SAS, Elekta and NBC Universal. For more information visit http://www.m-files.com.
M-Files is a registered trademark of M-Files Corporation. All other registered trademarks belong to their respective owners.