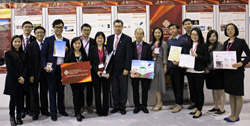 Hong Kong (PRWEB) April 07, 2017
The Hong Kong Polytechnic University (PolyU) has brought glory to Hong Kong by winning a total of 11 prizes at the 45th International Exhibition of Inventions of Geneva. Covering a wide range of application areas, these breakthroughs not only expand the boundaries of knowledge, but also enhance the well-being of our society on different fronts.
This year, PolyU researchers garnered one Grand Award, five Special Gold Medals, three Special Merit Awards, one Gold Medal and one Silver Medal at the world-renowned event. The winning projects are:
(1) Grand Award and Gold Medal with the Congratulations of Jury:
"Smart Scar-Care Pad" for the Scar-less World
Principal Investigator: Prof. Cecilia Wai Ping LI-TSANG, Department of Rehabilitation Sciences
The pad is specially designed to treat hypertrophic scars from burns, surgeries and trauma. It conforms to different body contours, providing optimal pressure dosage to reduce scar hypertrophy while maintaining the moisture of injured skin.
(2) Special Merit Award and Gold Medal with the Congratulations of Jury:
Nano Biosensor for Rapid Detection of Flu Virus
Principal Investigators: Prof. Jianhua HAO, Department of Applied Physics, and Dr Mo YANG, Interdisciplinary Division of Biomedical Engineering
Early detection of epidemic viruses is of prime importance as it may enhance the probability of survival for a patient. Conventional detection techniques either require long processing time for accurate results or have low sensitivity. This low-cost luminescent detection platform with ultra-sensitivity can detect different flu viruses 10 times faster than conventional clinical methods. The nano biosensor, carrying a DNA sequence complementary to the related gene of the target flu virus, can capture the virus genes and report a change in luminescence intensity in the presence of virus genes. It can be used for rapid virus screening and on-site flu detection.
(3) Special Merit Award and Gold Medal with the Congratulations of Jury:
Tank-Top with Bio-feedback System for Adolescents with Scoliosis
Principal Investigator: Dr Yiu Wan Joanne YIP, Institute of Textiles and Clothing
The innovative tank-top featuring a bio-feedback system with multiple sensors provides back muscle and customized posture training for scoliosis patients. To complement the tank-top, a mobile app has been developed to record the user's postures in real time and provide instant bio-feedback. By using the tailor-made tank-top with the mobile app, users can do the progressive bio-feedback training anytime, anywhere, and play an active role in improving their movement coordination and daily posture as well as controlling their spinal deformity.
(4) Gold Medal with the Congratulations of Jury:
Graphene/CNT-embedded Nanofibers for Clean Energy and Environment
Principal Investigator: Prof. Wallace LEUNG, Department of Mechanical Engineering
Inserting Graphene/Carbon Nanotubes (CNTs) into nanofibers results in fast transport of electron/charge in semiconductor nanofibers. It significantly increases the efficiency of solar cells for energy harvesting and photocatalysts for air purification by 40% - 66%.
(5) Gold Medal with the Congratulations of Jury:
Unmanned Aerial Vehicle (UAV) Communication Relay System
Principal Investigator: Prof. Chih-yung WEN, Department of Mechanical Engineering
The system enables multi-UAVs and cross-obstacle communications. It can make independent assessments for sending messages to coordinate a set of up to 13 UAVs. It helps overcome the restrictions posed by short communication ranges, and significantly improves the beyond-line-of-sight and cross-obstacle operation performances. Besides applying to quadrotors, the system is also compatible with other UAVs adopting Micro Air Vehicle Link communication protocol, such as fixed-wing and helicopter systems.
(6) Gold Medal:
Upcycling Wood Waste into Particleboard by CO2 Curing and Adding Low-carbon Cement
Principal Investigator: Dr Daniel C.W. TSANG, Department of Civil and Environmental Engineering
Applying this technology, wood waste can be upcycled into eco-friendly cement-bonded particleboards by adding magnesia cement and adopting the carbon dioxide curing process. The particleboards, with many advantages over the conventional wood materials, e.g. better noise and fire insulation, are excellent for use as interior wall panels or outdoor noise barriers.
(7) Special Merit Award and Silver Medal:
Cooling Fiber with Near-infrared and Visible Light Reflection
Principal Investigator: Dr Bin FEI, Institute of Textiles and Clothing
The fiber reflects near-infrared and visible light from the sun, and allows the human body to release middle-infrared, thus achieving outstanding cooling effects. It also absorbs ultraviolet light from the sun, making it an ideal sun-protection textile material for outdoor workers and residents in tropical areas.
The 45th International Exhibition of Inventions of Geneva, held from 29 March to 2 April, has attracted 725 exhibitors from 40 countries/regions, showcasing around 1,000 new products. Under the patronage of the Swiss Federal Government, the State and the City of Geneva as well as the World Intellectual Property Organization, it is the biggest event of its kind globally. For more details, please refer to the event organizer's official website: http://www.inventions-geneva.ch.
*****