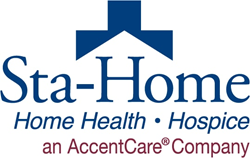 This is an exciting time for Sta-Home to join the AccentCare family. - Barry Davis
Jackson, Mississippi (PRWEB) April 06, 2017
Effective March 31, 2017, Sta-Home Home Health & Hospice, the largest home health provider in Mississippi, was acquired by AccentCare, Inc., a Dallas-based, post-acute healthcare company. Highly regarded, Sta-Home aligns with AccentCare's history of delivering consistently exceptional care for patients and their families.
"Sta-Home has been part of the fabric of the Mississippi healthcare community for over 40 years, compassionately serving multitudes of patients in the home," said Vincent Caracci, president and CEO of the company. "Finding a company aligned with our culture and mission was important to me. In AccentCare we not only found a company that aligns with our mission, but also one that brings the resources to help Sta-Home better serve our community."
Sta-Home is widely recognized throughout the state and will maintain its brand name, as well as its current leadership and staff.
"This is an exciting time in Sta-Home's journey, as we continue serving our patients with the same quality care that we've always delivered, while teaming up with AccentCare's nationally recognized clinical performance and support," said Barry Davis, Sta-Home's former Chief Information Officer, now General Manager and Regional Vice President.
This is the first time AccentCare has entered Mississippi.
"I am excited for Sta-Home to join the AccentCare family," said AccentCare CEO Steve Rodgers. "We are impressed with the dedication of Sta-Home's employees, and I am confident the uniting of our two companies will deliver our collective best for our patients and community healthcare partners."
###
About Sta-Home
Founded in 1976, Sta-Home has earned a reputation in Mississippi for providing high-quality, compassionate care to over 19,000 home health and hospice patients annually. Sta-Home's home health services include specialty programs such as certified diabetes educators, wound-certified nurses, foot care specialists, fall prevention and low vision rehabilitation.
About AccentCare
AccentCare, Inc. is a nationwide leader in post-acute healthcare as well as specialized care management prior to acute episodes. Its wide variety of innovative services ranges from personal, non-medical care to skilled nursing, rehabilitation, hospice and care management. Headquartered in Dallas, Texas, AccentCare has more than 19,000 compassionate professionals in over 130 locations across 11 states.
AccentCare's mission is to deliver consistently exceptional care for its expanding list of clients/patients and their families. The agency is committed to improving the quality of living for approximately 80,000 individuals each year.