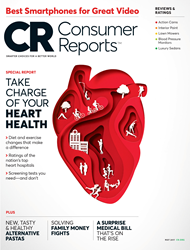 We want all hospitals to share their surgical results because we believe - and research has shown - that that kind of transparency leads to improvement.
Yonkers, NY (PRWEB) April 06, 2017
In a new special report, Consumer Reports leverages its exclusive hospital ratings and Best Buy Drugs analysis to help consumers make smart choices about the prevention and treatment of heart disease. Based on the latest medical evidence, CR provides a guide to some of the thorniest of questions in treating the #1 killer: Which drugs are right and who really needs them? When are heart tests warranted, and when are they not only unnecessary, but potentially harmful? Are drugs or stents better? And, when surgery is justified, how to find the best hospital?
While heart disease sometimes erupts into a full-blown emergency, requiring immediate intervention to restore blood flow to the heart, in many situations the path to aggressive care moves faster than called for, potentially leading to overtreatment and worse outcomes and complications, explains CR.
Consumer Reports' special report appears in the May issue and online at CR.org. The online report includes free ratings of nearly 500 hospitals nationwide on how they perform on coronary artery bypass surgery and aortic valve replacement. Plus, CR provides free ratings and advice on choosing a pediatric heart hospital.
The Dangers of Too Many Screening Tests
CR's report points out that too many heart tests can lead to a series of false alarms that trigger needless anxiety and a cascade of costly, sometimes risky procedures. If you feel fine and are at low risk, before you agree to a test, ask why it's necessary. "If you don't get a satisfactory answer, politely decline it or ask for a second opinion," says Marvin M. Lipman, M.D., Consumer Reports' chief medical adviser. CR summarizes its guidance on several common tests that are often incorrectly used in low-risk people:

Electrocardiogram (EKG or ECG): May be useful for people with symptoms of heart disease such as chest pain, and possibly for those at risk of heart disease who are starting to exercise.
Exercise stress test: May be useful when combined with an EKG or in people with an abnormal EKG.
Abdominal aortic aneurysm test: May be useful for people with detectable lumps in the abdomen and men 65 to 75, especially those who have ever smoked. Women 65 and older who ever smoked might consider it, though evidence is less certain.
Peripheral artery disease test: May be useful for people with cramping in their hips, thighs, or calves when walking or exercising.
Carotid artery imaging: May be useful for people who have had a stroke or mini stroke.
CT angiography: May be useful for people with chest pain and unclear results on an EKG and stress test.
Who Really Needs Heart Drugs: Guiding Consumers Through The Maze
Experts agree that high blood pressure and high cholesterol increase the risk of heart attack and stroke, but they don't necessarily agree on when you should take drugs. CR' Best Buy Drugs suggests the following to help guide and inform decision- making:
1. Focus on your overall risk. Everyone 40 and over should know their 10-year risk of having a heart attack or stroke. The ideal is a 10-year risk that's less than 7.5%. To determine your risk, CR suggests using a calculator developed by the American College of Cardiology and the American Heart Association, at tools.acc.org/ASCVD-Risk-Estimator.
2. Don't rush to drugs. If your blood pressure and cholesterol numbers are slightly elevated, consider with your doctor that lifestyle measures should be embraced first, before starting statin drugs. For example, CR notes that regular exercise can lower your systolic pressure (that's the upper number) by up to 9 points.
3. Get the right medication. When a statin or blood pressure drug is deemed necessary, CR stresses that it usually makes sense to start with the oldest, safest, and least expensive drug. For high blood pressure, CR Best Buy Drugs recommends diuretics, or water pills, such as chlorthalidone or hydrochlorothiazide. If that doesn't work, you may need to switch to or add an ACE inhibitor, calcium channel blocker, or other kind of drug. To prevent a first heart attack or stroke, low doses of statin drugs like lovastatin, pravastatin or simvastatin can be beneficial. Go to CRBestBuyDrugs.org for more details about high blood pressure and statin drugs.
Choosing The Right Hospital
In some cases, heart disease is so serious that drugs, even when combined with other interventions, such as angioplasty, may not be enough. In that case, you probably need surgery either to bypass blood flow around blockages in your coronary arteries or to correct a malfunctioning heart valve. And while both of these problems are serious, they are not always emergencies. Your doctor can often stabilize your condition with drugs, affording the opportunity and time to consider your options. "People will often do a better job comparison shopping with a car they might buy than the heart program they go to," said Steven Nissen, M.D., chairman of the department of cardiovascular medicine at the Cleveland Clinic Foundation.
In partnership with The Society of Thoracic Surgeons (STS), which collects data directly from hospitals on several key measures, CR provides updated Ratings of nearly 500 hospitals on coronary artery bypass surgery and aortic valve replacement surgery. That's 16% more hospitals than in 2014 when Consumer Reports first published heart surgery ratings. "We've made solid progress engaging more hospitals to share their data with CR, but still only about half of the hospitals that do heart surgery are willing to be transparent with their results," said Doris Peter, Ph.D., director of the Consumer Reports' Health Ratings Center. "We want all hospitals to share their surgical results because we believe - and research has shown - that that kind of transparency leads to improvement."
Which hospital you choose for your heart surgery matters, said Peter, noting that a complete list of hospitals rated by Consumer Reports, in partnership with STS, can be found at http://www.cr.org/hearthospitals0517. Of the hospitals rated, only 20 hospitals earned top scores in both heart bypass and aortic valve replacement surgery. If the hospital you're considering is not listed, CR suggests asking your surgeon how it performs on the STS measures. "If your surgeon won't share that information with you, or can't share that information, we suggest you keep looking," said Peter.
About Consumer Reports
Consumer Reports is an independent, nonprofit organization that works side by side with consumers to create a fairer, safer, and healthier world. For 80 years, CR has provided evidence-based product testing and ratings, rigorous research, hard-hitting investigative journalism, public education, and steadfast policy action on behalf of consumers' interests. Unconstrained by advertising or other commercial influences, CR has exposed landmark public health and safety issues and strives to be a catalyst for pro-consumer changes in the marketplace. From championing responsible auto safety standards, to winning food and water protections, to enhancing healthcare quality, to fighting back against predatory lenders in the financial markets, Consumer Reports has always been on the front lines, raising the voices of consumers.
___________
APRIL 2017
© 2017 Consumer Reports. The material above is intended for legitimate news entities only; it may not be used for advertising or promotional purposes. Consumer Reports® is an expert, independent, nonprofit organization whose mission is to work side by side with consumers to create a fairer, safer, and healthier world. We accept no advertising and pay for all the products we test. We are not beholden to any commercial interest. Our income is derived from the sale of Consumer Reports® magazine, ConsumerReports.org® and our other publications and information products, services, fees, and noncommercial contributions and grants. Our Ratings and reports are intended solely for the use of our readers. Neither the Ratings nor the reports may be used in advertising or for any other commercial purpose without our prior written permission. Consumer Reports will take all steps open to it to prevent unauthorized commercial use of its content and trademarks.