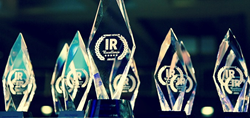 Chicago, IL (PRWEB) April 06, 2017
Internet Retailer, the world's leading publisher of strategic e-commerce business intelligence, and B2B Ecommerce World, today announced the finalists for the categories of the third annual Internet Retailer Excellence Awards. The Awards recognize the outstanding achievements made by innovative online retailers and business-to-business (B2B) e-commerce companies in the past year.
Internet Retailer and B2B Ecommerce World will announce the winners at the IR Excellence Awards dinner banquet held at the Hyatt Regency McCormick Place hotel on June 7, 2017, as the Internet Retailer Conference & Exhibition (IRCE 2017) convenes for its 13th straight year. Internet Retailer serves as the official media sponsor of IRCE, which will occur at McCormick Place West in Chicago from June 6-9, 2017.
"I enthusiastically congratulate all 45 finalists for our third annual 2017 Internet Retailer Excellence Awards," says Molly Love, CEO of Internet Retailer. "Our goal is to highlight best practices that all online retailers and B2B e-commerce companies can learn from.The finalists represent some of the fastest-growing and most innovative companies in e-commerce, and their accomplishments reflect the ongoing shift of purchasing—whether by consumers or businesses—to the web."
Determined by a team comprised of Internet Retailer senior editors and e-commerce industry experts, the finalists for each of the 13 IR Excellence Awards categories are as follows:
Emerging E-Retailer of the Year: Chewy, Hollar.com, MeUndies, Purple, MVMT Watches
E-Retail Growth Award: Chewy, Leesa Sleep, Poppin, Ulta Beauty
Web Redesign of the Year: Califia Farms, Kate Somerville, Lowe's, Oliver Sweeney
E-Retail Marketer of the Year: eBags, Target, Wayfair
Best Marketing Video of the Year: Pampers, Reef, SupplyHouse.com
Best Product Video of the Year: SupplyHouse.com, Sylvane, Vurtego
B2B E-Commerce Marketer of the Year: DollarDays, Lightning Labels,
SupplyHouse.com, MSC Industrial Supply Co.
B2B E-Commerce Website Redesign of the Year: Cole-Parmer, PacknWood, Sullivans, Tech Data
B2B E-Commerce Player of the Year: Amazon Business, Cisco Systems, Garrett Popcorn Shops, Kimball Midwest, Tech Data
Mobile Commerce Award: eBay, Lancôme, RealTruck, Wayfair
Global E-Retailer of the Year: Anker, Benefit Cosmetics, Nike
Omnichannel Retailer of the Year: Amazon, Best Buy, DSW, Fabletics, Home Depot
Internet Retailer of the Year: Amazon, Dollar Shave Club, Nike, Ulta Beauty
"We were pleased to receive hundreds of nominations for our 13 categories of Internet Retailer Excellence Awards," says Kurt Peters, executive editor of Internet Retailer. "The broad range of retailers and high quality of all nominations made choosing finalists difficult but ensured that when we announce the winners on June 7 at IRCE, we will be recognizing the leaders of the industry."
E-commerce solutions providers can attend the Excellence Awards by procuring a sponsorship package. For sponsorship information, contact: Tom Duggan, vice president of sales & product development, Internet Retailer, at 312.572.6250 or tduggan(at)verticalwebmedia(dot)com.
For media inquiries, contact: IR Awards Team at irawards(at)verticalwebmedia(dot)com.
ABOUT INTERNET RETAILER®
The flagship brand of Chicago-based e-commerce publisher Vertical Web Media, Internet Retailer provides comprehensive e-commerce business intelligence through print and digital channels, including a monthly magazine, research reports and databases (Top500Guide.com), websites, webinars and newsletters. Internet Retailer, launched in March 1999, is the largest e-retailing monthly magazine with 44,500 subscribers. InternetRetailer.com is the most-visited informational website in e-commerce featuring daily industry news and market analysis. The site attracts more than 205,000 unique monthly visitors.
DigitalCommerce360.com, our new web platform, provides insight, research and analysis of the trends, technologies and people that are shaping the future of multiple digital commerce markets including retail, business-to-business e-commerce and web-driven consumer healthcare.