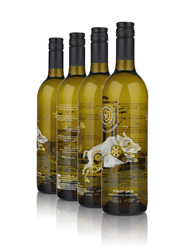 "This expansion reflects our commitment to the local wine community," says Caitriona Anderson, VP Sales & Marketing, at Monvera Glass Décor.
Richmond, CA (PRWEB) April 11, 2017
Monvera Glass Décor, an industry leading supplier of wine bottle decoration with a specialty in screen printing, has opened a second office in the prestigious Napa Valley Commons, at the entrance into the Southern District of Napa Valley. With this move, Monvera joins the local corporate and professional services firms that operate out of Napa Valley Commons to support the Northern California wine industry.
Managing the office is Phil Orem who joined the Monvera team at the end of 2016. Phil brings a wealth of experience with him having worked in a variety of Sales, Business Development and Management roles on both the winery side and supplier side of the wine industry. This depth of experience enables Phil to effectively guide customers through the important process of making labeling decisions for their brands. When asked about joining the Monvera team, Phil said, "I had the opportunity to use Monvera's bottle decoration services in the past and so when the opportunity presented itself to further their presence in Napa Valley, I didn't hesitate to jump on board."
"This expansion reflects our commitment to the local wine community," says Caitriona Anderson, VP Sales & Marketing, at Monvera Glass Décor. "We want to be closer to our customers and make it easier for them to come and visit our showroom where they can view the broad range of screen printing capabilities that we offer. This includes both UV and ACL decoration with a specialty in 360 degree printing on the neck, shoulder and full body of the wine bottle."
About Monvera Glass Décor:
Monvera Glass Décor is a full-service glass bottle and container decoration company specializing in screen printing on glass for the wine, spirit, beer, specialty-food and cosmetic industry. Clients include Boisset Family Estates, Frank-Lin Distillers, Garrett Markenson Coiffure and Veronica Foods. To learn more about Monvera visit http://www.monvera.com