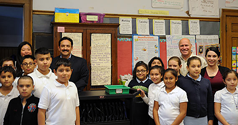 The Tripp Lite Charging Carts are a great addition to our classroom technology
Chicago, IL (PRWEB) April 06, 2017
Tripp Lite, a world-leading manufacturer of power protection and connectivity solutions, stepped up to help a neighbor in need.
John C. Burroughs Elementary School serves approximately 500 students on Chicago's southwest side, not far from Tripp Lite's world headquarters. While neighborhood kids played during weekend open gym hours, a thief slipped into a classroom and made off with 30 iPads used for learning. Monday morning, teacher Maribel Herrera discovered the loss. Herrera—and her students—were devastated. Budget cuts from the state of Illinois and the Chicago Public School System prohibited the purchase of new iPads.
Upon hearing about the theft, the nearby ComEd training facility presented the school with a $10,000 donation. With the money, Burroughs was able to buy enough new Chromebooks to equip three classrooms. Meanwhile, administrators needed a solution to ensure the new Chromebooks would not meet the same fate as the pilfered iPads.
Burroughs Students
Illinois State Senator Antonio Muñoz joins Principal Richard Morris, along with Burroughs students and teachers as they prepare to place new Chromebooks in a Tripp Lite Charging Cart.
Charging Carts
Learn More
Download Product Images
Word spread quickly around the neighborhood and that's when Tripp Lite jumped in with a donation of their own: three CSC32AC 32-Port Charging Carts. Now, when the school's new Chromebooks are not in use, they are stored and charged securely in the lockable carts. And because the carts have smooth-rolling casters, it's easier to move the devices between classrooms as needed.
Key Features of Tripp Lite's 32-Port AC Charging Cart
•Cart provides AC charging, syncing, secure storage and cord management for up to 32 Chromebooks and laptops up to 17 in. screen size
•Locking steel doors and side panels prevent theft and tampering
•Protective coated shelves with removable dividers and cord management keep devices organized
•Flow-through ventilation prevents overheating during charging
•Wide-grip handle and locking casters with non-marking wheels allow for easy maneuverability of devices across multiple classrooms, giving more kids an opportunity for technology-enabled learning
Burroughs Principal Richard Morris is grateful the school was able to purchase new devices and house them safely. "The Tripp Lite Charging Carts are a great addition to our classroom technology," he noted. "Not only will the Chromebooks be protected from future theft, the carts give us flexibility for use and storage of the devices that we didn't have before."
For more information about Tripp Lite's line of charging carts and stations, visit: Tripp Lite -Charging Carts
About Tripp Lite
Outstanding product reliability and exceptional service have been Tripp Lite trademarks for 95 years. Tripp Lite´s innovations include the world's first UPS system designed specifically for personal computers and the world's most trusted premium surge protector—the Isobar®—with more than 19 million in use. Tripp Lite maintains the highest level of ready-to-ship inventory in the industry with more than 3,500 different products, including UPS systems, rack systems and cooling solutions, PDUs, PowerAlert software for enterprise-level system management and control, surge protectors, KVM switches, cables and connectivity products, inverters, power strips and notebook accessories. Headquartered in Chicago, Illinois, Tripp Lite maintains a global presence with fully staffed offices worldwide. Additional information, including a list of Tripp Lite's sales offices and authorized reseller partners, can be found by visiting Tripp Lite's website: http://www.tripplite.com.