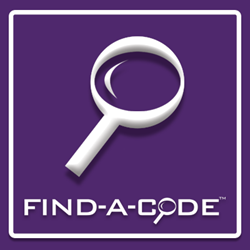 "Find-A-Code continues listening to our customers and blazing forward with a solid HCC solution. We continue to enhance our product offerings by providing the right tools for accurate and proper reimbursement." - LaMont Leavitt CEO Find-A-Code
Spanish Fork, Utah (PRWEB) May 07, 2017
At launch, Taylor Smith, Chief Customer Officer of Find-A-Code, said, "We're really excited to offer our newest product called HCC-Coder, as this collection of tools and resources will fill a critical and fast-growing need in the medical coding industry. The launch of HCC-Coder will make Find-A-Code the first and only encoder in the market to include a full Drug Dictionary, as well as other critically needed tools and resources for HCC coding. These new features coupled with our existing user-friendly FindACode.com interface and 100% US-based customer support and development teams make Find-A-Code's new HCC-Coder product the ultimate solution for every HCC coder's needs!"
HCC-Coder has some great features including icon indicators to clearly distinguish Chronic vs. Acute conditions, link directly from ICD-10-CM codes to related HCC Measures (and see which HCC group takes precedence in each case), as well as enter a full list of ICD-10-CM codes, click a button, and see all corresponding HCC measures in a table.
Sage Morgan added, "As a Quality Manager for a major Risk Adjustment Solution company I've researched many encoders to assist my company in being #1 in our industry. I was unable to find any one encoder that had all the required elements I was looking for. I was looking for a product that would easily Identify a DX as an HCC or an RxHCC, identify the DX as Chronic or Acute, alert the coder that he had made a previous not on that particular DX. Most importantly I wanted an encoder that incorporated a drug database inside the encoder. The drug database was my impossible get with every encoder company I contacted. I reached out to Find a Code, told them what I was looking for and their Development team worked with me to create the perfect tool for HCC coding. They added user friendly Icon's identifying a DX as HCC or RxHCC, as Chronic or Acute and a note Icon to alert the coder to previously entered notes related to that particular DX. Most importantly they researched and integrated a drug dictionary into their encoder allowing the coder to have a one stop product for HCC coding! Congratulations Find-A-Code on the creation and successful launch of a fantastic new product!
FindACode.com is an online database of medical billing codes and information. People use Find-A-Code to assign codes to medical diagnoses and procedures in order to be reimbursed by insurance companies and Medicare. FindACode.com is a quick and easy system that uses a simple search to return accurate information. Rather than searching through volumes of books, Find-A-Code has compiled the information into one simple system.
Find-A-Code's simple, search-engine-like system of searching for billing codes is very intuitive and easy to use.
Find-A-Code's tools assist medical coders, providers, billers, auditors, and payers in their efforts to accurately determine proper codes for documenting medical diagnosis and procedures for claim forms, documentation, and notes.