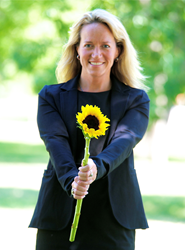 Depression is now the leading cause of death among adolescent girls, costs the economy 1 trillion dollars a year, and is a global human rights crisis.
new york, ny (PRWEB) April 07, 2017
On April 7th, 2017 the World Health Organization launches a year-long campaign on a global health issue for Global Health Day, and this year that focus is depression. IFred joins in that effort with a campaign asking for people around the world to plant sunflowers, post a sign and share the message of Hope: depression is treatable. iFred's Founder, Kathryn Goetzke, is attending the United Nations event in New York on this Global Day for Hope, joining in solidarity with others to honor the 350 million people living with depression around the world.
iFred uses sunflowers as the international symbol of hope for depression and works toward the elimination of stigma associated with the disease through prevention, research and education. The Global Day for Hope site launches a platform for others to wear yellow, add a sunflower garden to the map so folks/ people can visit, and share with others what brings them hope.
iFred was founded by Kathryn Goetzke, a powerful and passionate advocate for igniting important discussions about depression and destigmatizing the disease.
"People don't talk about depression and we must change that," Goetzke said. "Depression is treatable and yet because of the stigma associated with it, less than 50 percent of people with diagnosable depression receive treatment. It is now the leading cause of death among adolescent girls, costs the economy 1 trillion dollars a year, and is a global human rights crisis. We need to turn the conversation to provide solutions and hope for children and adults who silently suffer from the disease."
According to a report by the World Health Organization, suicide is a preventable mental health disorder that is treatable. However, because it is not significantly addressed, we lose over 1 million lives annually, and is a leading cause of death for our youth. It is estimated to cost the world over 1 trillion dollars a year, yet research shows that for every dollar invested, 4 is returned.
"Like so many other treatable medical conditions, support from family, friends and community can make the difference to an individual fighting for a healthy life," said Dr. Elizabeth Lombardo, psychologist and physical therapist and author of A Happy You; Your Ultimate Prescription for Happiness. "We can all play a significant role in guiding our friends and loved ones to find and maintain hope by helping to address stress effectively, showing kindness and gratitude to one another and by stopping the unending search for perfection. Hope is a teachable skill and we all have the power to help someone close to us find purpose and positivity in life."
The Global Day for Hope will be celebrated worldwide with sunflower plantings in communities, homes, public spaces and parks. These are the many ways to participate:
1. Plant Sunflowers: Plant one, plant a garden, get friends and community involved and celebrate HOPE together. Put up a sign that shows that it is OK to talk about depression.
2. Wear Yellow: Yellow is the color of the joy and happiness we feel when depression is successfully treated.
3. Share, Share, Share: Post, tweet, or share a photo on social media. Use our template for What Brings You Hope. Shine your light on hope and use the hashtags #Hope2017 #LetsTalk and be sure to tag us @ifredorg.
About iFred: International Foundation for Research and Education on Depression's mission is to shine a positive light on depression and eliminate the stigma associated with the disease through prevention, research and education. Its goal is to ensure 100% of the 350 million people affected by depression seek and receive treatment.
iFred is creating a shift in society's negative perception of the disease through positive imagery and branding-establishing the sunflower and the color yellow as the international symbols of hope for depression. To further its mission, iFred engages with individuals and organizations to execute high impact and effective campaigns that educate the public about support and treatment for depression.
iFred also teaches Hope around the world since based on research it is a teachable skill. This free curriculum is available online and to all. Find out more at Schools for Hope. (http://www.schoolsforhope.org).
About Kathryn Goetzke: Kathryn Goetzke is the founder of iFred, the International Foundation for Research and Education on Depression (http://www.ifred.org). Kathryn serves on the Global Mental Health Advisory Board, she has presented at the United Nations, and attended the invite-only World Mental Health event. Kathryn has an MBA in International Marketing Management and a BA in Psychology and over 25 years of marketing experience for large and small companies. She currently runs a company called The Mood Factor y (http://www.themoodfactory.com), a company that has supported causes included mental health through cause marketing campaigns. The Mood Factory is presently launching other products based on how scents impact mood.
To find out more about the World Health Campaign, visit: http://www.who.int/campaigns/world-health-day/2017/campaign-essentials/en/