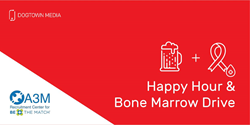 The more people we can get to register as donors, the more lives we can save
Los Angeles, California (PRWEB) April 07, 2017
Every three minutes someone in the United States is diagnosed with a blood cancer like leukemia. For many, their only hope for a cure is a bone marrow transplant.
This Friday from 6-9pm, Dogtown Media, a leading mobile technology studio, is partnering with Be the Match®, a nonprofit organization that manages the largest and most diverse marrow registry in the world, to host a bone marrow registry drive.
"This is obviously a great cause, and it became personal when one of our employee's brother was diagnosed with leukemia late last year. We are honored to partner with Be the Match and have the opportunity to make a positive impact on so many people's lives," said, Dogtown Media CEO, Marc Fischer.
According to Be the Match Registry data, about 1 in 430 donors go on to donate bone marrow or peripheral blood stem cells (PBSC) to a patient. "Joining the registry is as easy as swabbing your cheek with a Q-tip!" says Carol Tsang, Recruitment Coordinator for Asians for Miracle Marrow Matches, a partner organization of Be the Match. "And if you are a match, donating is just like giving blood...it's not as scary as people think."
Dogtown Media hopes to attract a few hundred people to their headquarters in Venice Beach to support the cause. "The more people we can get to register as donors, the more lives we can save!" exclaimed, Fischer.
Be the Match welcomes anyone unable to make it to the event to register as a donor or make a tax deductible donation to support the cause.