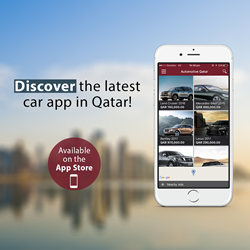 Doha, Qatar (PRWEB) April 12, 2017
The team is excited to announce the release of Automotive Qatar on the Apple app store for iOS devices, including both iPhone and iPad. The app has been designed from the ground up to target the specific needs of the market in Qatar, offering a host of robust features.
Available for download now, the app will allow users to list their vehicle and start attracting prospective buyers in as little as 60 seconds – from start to finish. The app was designed to be fast and efficient – using JSON for data transfer – allowing results and listings to be made in the quickest possible time.
Automotive Qatar isn't specifically focused on the business of selling, though. The platform has also been designed for those looking to purchase a new car, and with those in mind, the app has some nifty features, including the ability to favorite listings and checkout with PayPal. Whilst, the sliding menu allows the interface to remain clean and crisp, letting the user focus on the most essential of details – the car in question itself.
Upon downloading Automotive Qatar and creating a free account – there's no hidden charges to be found here – users will have access to a wide array of features, including:

Listing Manager – Personal panel, providing an overview of all active listings on Automotive Qatar. From here, users will be able to edit, remove, upgrade to featured ads, and even check the status of any listing.
Payment Gateway – Automotive Qatar is designed to be safe and efficient. To ensure this is met to the highest of standards, PayPal is integrated as the primary source for transactions.
Facebook Connect – Don't want to go through the usual sign-up process? No matter, simply connect with Facebook.
Recently Added – The application has a handy section within Automotive Qatar that displays the most recently added cars for sale in and around Qatar, letting users view what's on offer right now.
Seller Pages – Each seller receives their own profile page, containing an overview of the seller, where they're located and the vehicles they have for sale.
Detailed Listings and Favorite Listings – The IOS application offers an incredibly user-friendly listing pages that allow users to get a quick run-down on everything about the vehicle that's for sale, including its location and videos of the condition. Found one? Save it as a favorite listing.
Nearby Cars – Want to find used cars for sale in Qatar specifically located nearby? Not a problem with Automotive Qatar. In addition, the application allows users to search by location, using the built-in Google Maps support, to find the best deals!
Though Automotive Qatar runs best on iPhone and iPad, the application has support for those using iPod touch devices.