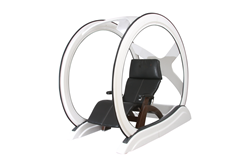 Physicians should initially treat lower back pain with non-drug therapies and avoid prescribing unnecessary tests and drugs for these patients. - American College of Physicians [http://maglink.io/back-pain]
Clearwater, FL (PRWEB) April 17, 2017
The American College of Physicians has published new guidelines which direct Pain Management practices to initially use alternative therapies to treat lower back pain, instead of relying on drugs. Magneceutical Health is now working with Pain Management clinics to offer a solution that satisfies these new requirements. The Magnesphere™ from Magneceutical Health™ offers a whole-body immersion utilizing precise, low-level electromagnetic fields to enhance feelings of relaxation, which helps address chronic stress and its primary symptoms of pain, inflammation, digestive issues and sleep disorders. The technology is pain-free, drug-free and is now available to all Pain Management clinics
Since Back Pain accounts for 25% of the revenue for Pain Management centers, it is important to identify a reliable alternative that will produce the desired results for patients. With 25 years of research, and years of clinical trials the Magnesphere is a proven solution, which has produced outstanding results for hundreds of patients.
Magneceutical Health Founder and CEO Allen Braswell, Jr. explains why he's taking the brand into the pain management marketplace, "The Pain Management industry needs a better solution to help reduce pain for their patients without relying on drugs. The Magnesphere is the perfect solution for their needs." Given the "non-drug" initiative in the pain management industry, the Magnesphere System provides Pain Management practitioners a strong foundation for addressing chronic stress and its symptoms: especially pain.
Braswell and his team developed the Magnesphere (pictured) as a platform to help people improve their health and wellness through the use of natural and holistic magnetic fields. Sessions in the Magnesphere last 30 to 60 minutes and allow patients to relax while fully clothed, oftentimes, encouraging sleep. These sessions can be conducted by staff, and do not require supervision from a doctor.
The Magnesphere works based on scientific principles related to:
1. Magnetic Resonance Therapy and Stimulation of the Vagus Nerve. With precise, physiologic magnetic fields which produce a balancing effect on the Autonomic Nervous System (ANS) and its two branches: Sympathetic ("fight or flight") and Parasympathetic ("rest and digest").
2. Heart Rate Variability. By tracking this proven biomarker, which is linked to balancing the ANS, clinicians can determine which magnetic field(s) are best suited for their patients and help improve symptoms that have been exacerbated by chronic stress.
About Magneceutical Health: Led by Allen Braswell and Dr. Jerry Jacobson, the Magnesphere™ was designed to help people improve their health and wellness by enhancing the relaxation response through the use of natural and holistic magnetic fields. The Magneceutical Health team creates products to help people manage stress, strains and pain without drugs, shots, or surgery.
More information may be found on http://www.Magneceutical.com.
The Magnesphere™ is intended to enhance feelings of relaxation, and is not intended to diagnose, treat, cure, or prevent any disease.